While you are debating the team's offseason priorities, there is one game that D.C. United's has yet to play. Their last game of the season comes against the Houston Dynamo, the same team against which they opened the season. Looking back at my lineup post and the gamethread for that first game make it seem like years ago, with talk of Rafael, Marcos Sanchez, Raphael Augusto, and even Brandon McDonald. The cheery optimism of those first days has long since been replaced by the five stages of grief, and all I have left is acceptance of our fate. But when the season is finished, the slate is wiped clean and everyone has a chance, so let us put this season to bed and begin to look towards the next with a faint glimmer of hope in our eyes.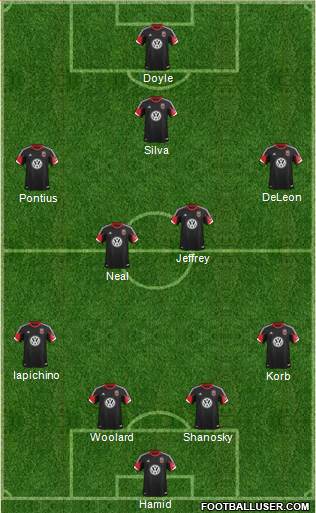 With Perry Kitchen out of this game due to his accumulation of yellow cards, we should finally see Conor Shanosky pair with Daniel Woolard. Supporting them will be the same two fullbacks that we have seen for the past few weeks, Dennis Iapichino and Chris Korb. I know that Taylor Kemp was dealing with a foot injury, but if he is healthy enough to make the 18 I would also like to see him get some time as a substitute.
The midfield line is the same as it has been, with Nick DeLeon, Lewis Neal, Jared Jeffrey, and Chris Pontius as the starters. My preferred substitute from this line would be to bring in Collin Martin at some point for Neal, probably around the same time that my preferred substitute for the forward line, Michael Seaton, comes in for either of Luis Silva or Connor Doyle. With this lineup, the subs would be Joe Willis, James Riley, Marcelo Saragosa, Michael Seaton, Collin Martin, Dwayne De Rosario, and Kyle Porter.
What do you want to see in the last game of the season?
More from Black And Red United: