The start of the 2013 MLS season means that all of your favorite columns are combing back to Black and Red United, with the addition of a few new ones as well. You have already seen the triumphant return of our predictions contest, and today you get the Ben Olsen's Lineup Guessing Game!
There is not much guessing for D.C. United's first lineup of the season against the Houston Dynamo, as it is the same one that we have seen start in the last three preseason matches; it is also the lineup in which everyone expected the team would start the season.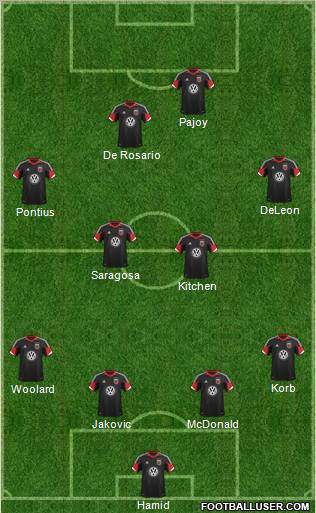 This lineup starts out as a 4-4-2, but we all know that Dwayne De Rosario will spend some time in the midfield trying to pick up the ball; how much he has to do that will determine if this lineup eventually looks like a 4-5-1 or not. It is a pity that we were not able to see the last preseason match, against the Philadelphia Union, because I would be curious to see if the high line that Olsen played against the Montreal Impact was just something he wanted to try for preseason or if it will be implemented for the regular season.
The only possible change would be if the MLS Disciplinary Committee found definitive video of De Rosario's alleged headbutt of Danny Cruz and decided to suspend him. That would likely require a complete change of formation as none of our other second strikers are currently ready to play 90 minutes. I would expect Lewis Neal to slot into the middle and United shift to a 4-5-1 if that were to happen.
This season there will likely be some fluidity in the starting XI even without the inevitable injuries that will force Ben Olsen's hand. Dwayne De Rosario will turn 35 in May and, even though he takes amazing care of his body, the team cannot afford to use him up over the summer and have him running on fumes come the playoffs. As the season progresses, I can see DeRo getting rested and Carlos Ruiz starting in his place in a few games, Kyle Porter and Marcos Sanchez starting while Chris Pontius and (perhaps) Nick DeLeon are away at the Gold Cup, and there is always the question of who will supplant Marcelo Saragosa in central midfield. But let's not get ahead of ourselves: who do you think will start the first game of the 2013 season?
Follow B&RU on Twitter