With the news coming out now that Dejan Jakovic and John Thorrington are both out injured for the rest of the season, Ben Olsen will now have to make some more difficult decisions about who to start in defense and midfield. It is especially unfortunate for Jakovic, as it deprives him of time to pair with Ethan White (who is also hurt and unlikely to play) so that they can try and develop the beginnings of a partnership for next year. Without that, and without knowing the details of his contract situation, I think that there is a real question as to whether or not he comes back next season. It will be an interesting rebuilding process this offseason, and hopefully these last three games will give us nuggets of insight into where they will lead D.C. United.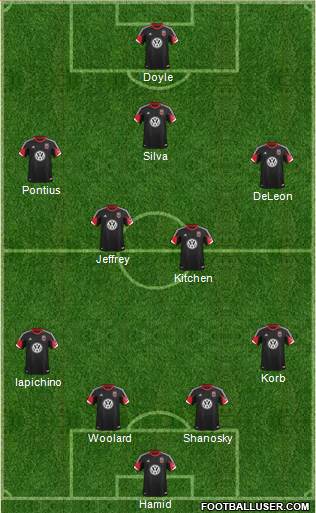 While getting the team's younger players experience is a necessary part of these last three games, getting players who might be able to contribute more next season time to work together is just as important. Conor Doyle and Luis Silva need time to work together, especially if the team is going to sign Doyle from Derby County. Jared Jeffrey and Perry Kitchen need time to work together, because it seems very likely that they will be the starting midfield partnership come next season. And all four of them need time to work with each other and with Chris Pontius and Nick DeLeon. As we said on the last episode of Filibuster, our hope for next season is that Doyle is a reserve; however, if he can build the beginnings of a relationship with his teammates now, he can have a real impact as a sub next near.
Unlike the midfield, my only hope for the current defensive unit is that they survive the rest of this season. A back four of Dennis Iapichino, Daniel Woolard, Conor Shanosky, and Chris Korb is my prediction because it allows Perry Kitchen to stay in the midfield while giving Iapichino some time on the field to be evaluated. Without Shanosky on the field, that means there will be no natural center back there and, despite his other limitations, Shanosky is tall enough head balls away to which Woolard or Kitchen could never get. In addition, Shanosky can still improve at center back, whereas Woolard is too old to get any better there and Kitchen will never get consistent experience to make it worth anything but an emergency option.
The subs for this game will be Joe Willis, Taylor Kemp, Ethan White, Collin Martin, Michael Seaton, LEWIS NEAL, and Dwayne De Rosario Kyle Porter. Out of those seven, the three that I want to see come in are Seaton, Martin, and Kemp and probably in that order in the second half. How do you want Ben Olsen to approach this game against the Philadelphia Union?
More from B&RU: