As we have been harping on for months now, the U.S. Open Cup is D.C. United's last chance to salvage anything on the field this season. The next step towards the final comes tomorrow night against the Chicago Fire at Toyota Park. But after United's 3-1 win over the Montreal Impact, there are questions at two key positions. We had assumed for the last few months that Dwayne De Rosario and John Thorrington gave United the best chance in this game; but is that still true?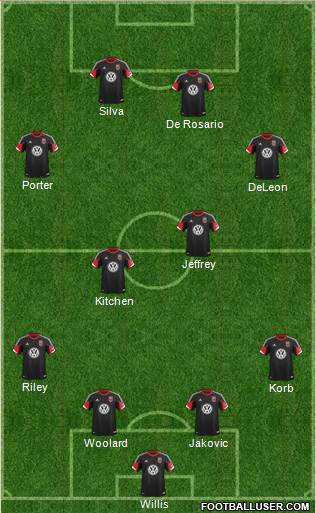 I think that Dwayne De Rosario will get the start, despite Conor Doyle's performance against the Impact. De Rosario had a good 65 minutes before he was taken out, combining well with Luis Silva and pushing shots just barely wide or forcing good saves from Troy Perkins. However, I do think that De Rosario will be on a sort of BrankoTime: he will be taken out somewhere between the 60th and 70th minutes, and Doyle will get plenty of time to try and change the game.
The other battle is between John Thorrington and Jared Jeffrey. Obviously, if Thorrington is still hurt, then the choice is obvious. If Thorrington is healthy, he has been one of the key players for United this year so far and has taken over as captain. However, Jeffrey plays the same role and seems to be in a rhythm right now, especially considering his performance in the Montreal game. Why not ride the hot hand and see where it leads you?
The defense will remain the same as the Impact game, with their surprising uptick in form. The benching seems to have refocused Chris Korb, who put in his best performances in a number of games tonight. James Riley, shockingly enough, also had a decent game playing on the left side and so is a lock to get the start against Chicago as well.
With this lineup, the subs will be Bill Hamid, Taylor Kemp, Ethan White, Sainey Nyassi, Conor Doyle, John Thorrington, and Collin Martin. Who do you want to see tomorrow against the Fire?
More from Black And Red United: