The last few games of this season, ever since the Open Cup final, have been for Ben Olsen to see what he has going into the offseason. Conor Doyle, Luis Silva, and Jared Jeffrey have all been given extended time to start to make their cases as to why they should either be signed from their current team or why they should have a starting spot at the beginning of next season. The defense, on the other hand, aren't playing for starting spots: They're playing for roster spots. While there is no meaning in the standings to these games, they are interesting to watch and see which players will be around next year and which players will likely be gone.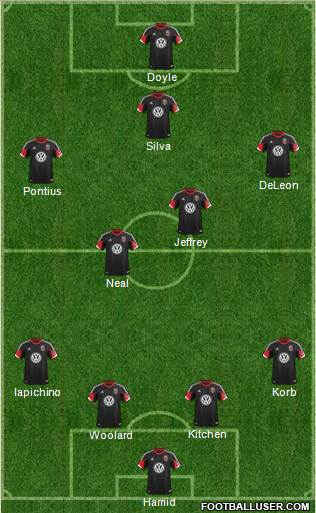 Instead of giving Conor Shanosky an extended run at center back, which is his natural position, Ben Olsen seems to want to give Perry Kitchen more experience there. Olsen's stated reason is, however, is not a tactical one: With the injuries to Dejan Jakovic and to Ethan White, he simply sees Kitchen as his next best central defender. It looks like he sees Kitchen as a hybrid player, in the mold of a Geoff Cameron; being able to deploy him in either position gives the team more flexibility. If Olsen's goal is to be able to take out a center back when he needs more attackers on the field, therefore moving Kitchen to the back line, then it is a worthwhile use of these last few games. However, if Conor Shanosky cannot break into the lineup in this situation, his prospects for staying with the team long term seem dim.
The starting lineup is the same as last week's against the Philadelphia Union. With it, the subs would be Joe Willis, James Riley, Michael Seaton, Collin Martin, Conor Shanosky, Kyle Porter, and Dwayne De Rosario. What do you want to see out of these games? Can you see past the crippling despair of the season to find interest in who will be around next year?