The D.C. United game against Toronto FC was frustrating for any number of reasons, which include the defense not concentrating for 90 minutes and the offense not creating enough chances. Our opponent this Saturday is in a funk of their own, having just lost 3-2 to lowly Chivas USA. If the New York Red Bulls fail to get all three points this Saturday, that means they will be on a four match winless streak and will have dropped points to two of the three worst teams in the league. Also, if United wins by two or more goals, they will somehow win the Atlantic Cup, which would be a nice twist of the knife to our friends in Jersey.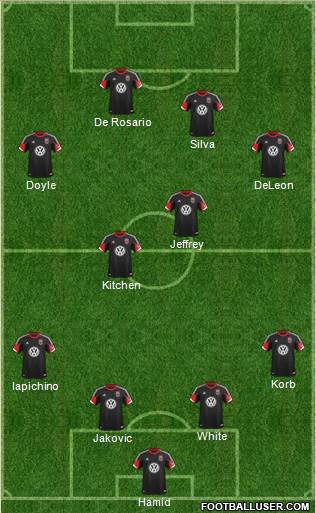 I liked what I saw from Conor Doyle and Jared Jeffrey against Toronto FC. Doyle was able to serve better crosses than Kyle Porter, and when he was able to cut inside he has dangerous as well. Jeffrey has shown a willingness to get forward and his footwork and timing with his teammates has gotten better with each passing game. Given a couple more games, I think he could surpass John Thorrington and could be on track to start in his place in the Open Cup final.
On the other hand, there is not one member of the back four that I wouldn't replace right now. However, since the team doesn't really have a backup right back, Chris Korb gets to stay in the lineup for now. Similarly, since Conor Shanosky is going to be with the Richmond Kickers for (hopefully) the next two weeks, Dejan Jakovic also gets a pass; however, for our opinions on what should happen to Deki long term, listen to the newest episode of Filibuster. That leaves Daniel Woolard and James Riley, who I would replace with Ethan White and Dennis Iapichino. They may not be better, but they cannot be worse.
With this lineup, the subs would be Joe Willis, Daniel Woolard, James Riley, Kyle Porter, John Thorrington, Lewis Neal, and Carlos Ruiz. What do you all want to see this weekend against the New York Red Bulls?t