D.C. United is back in action tonight, taking on Tauro FC in the Concacaf Champions League. A win or a draw tonight means that D.C. United will win the group and not have to go to Panama in October needing a result, all of which would be very good things. Ben Olsen has told Steve Goff of the Washington Post that he intends to mix starters and reserves, much like the most recent game against Waterhouse FC. Here is my crack at who Olsen will chose.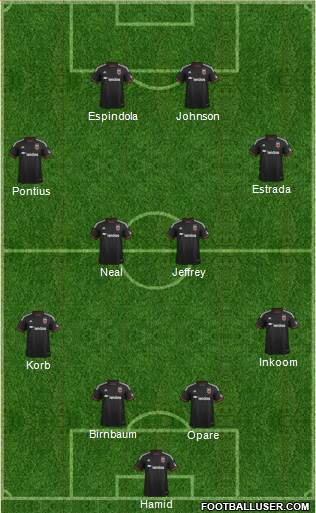 If Eddie Johnson is available, I think he will get the start alongside Fabian Espindola. The team needs him to round back into form down the stretch, both for solidifying D.C. United's position at the top of the Eastern Conference as well as for the playoffs. In the midfield, Chris Pontius will make his first start, with a central midfield of Jared Jeffrey and Lewis Neal; if the game against Chicago said anything, it said that the starting central midfield of Perry Kitchen and Davy Arnaud need a rest. Finally, with David Estrada back to health he gets the start in the place of Nick DeLeon.
On the back line, Chris Korb steps in for the suspended Taylor Kemp, with Kofi Opare, Steve Birnbaum, and Samuel Inkoom along the rest of the back line. Since Korb is not yet 90 minutes fit, there will have to be some interesting substitutions; I am imagining a central midfielder coming on for Korb and then Lewis Neal moving back to left back. With this lineup, the subs would be Joe Willis, Bobby Boswell, Luis Silva, Perry Kitchen, Davy Arnaud, Collin Martin, and Michael Seaton.
What do you all want to see from Ben Olsen's team tonight?