D.C. United cannot run out the same lineup that they did last week and expect different results. On Filibuster this week, I argued for even larger changes to the lineup, but I think that the 4-4-2 is the formation for this season and that won't change this weekend. However, there are still a couple of changes that Ben Olsen could make (and some he must make) within that formation to give the team the best chance at winning.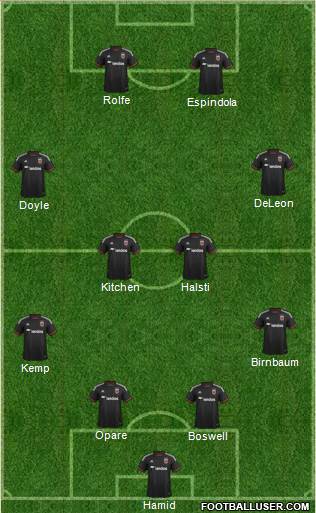 There are two injuries to starters that will determine how Ben Olsen's team lines up on Sunday: Sean Franklin rolled his ankle last week and hasn't yet practiced, and Chris Pontius was injured in the knockout round game and also hasn't practiced yet. Assuming both of them are out, Ben Olsen will have to do something different than he did last game.
The first is that Chris Rolfe cannot start in the midfield. He is more dangerous and creative than Alvaro Saborio and he has to be closer to goal. To do so, someone has to take his place on the left wing, and there are really only two options on the bench: Conor Doyle and Miguel Aguilar. Were Sean Franklin healthy, he would be an option to move into the midfield, but alas, he is not. Starting Doyle is the most likely of limited options: he will put in the defensive work, has boundless energy, and has looked slightly better as a midfielder over a forward. Aguilar, then could come in as a second half substitute.
If Sean Franklin can go, he could slot either into the midfield or into his normal right back spot; if he can't or is in the midfield, his spot on the back line will be taken by Steve Birnbaum. Nick DeLeon is too important to the midfield to move to the back line for an entire game, and Luke Mishu probably isn't ready to be thrown into the playoffs cold. That means that Kofi Opare will pair with the returning Bobby Boswell, with Taylor Kemp still on the left.
With this lineup, the substitutes would be Andrew Dyksta, Luke Mishu, Miguel Aguilar, Alvaro Saborio, Jairo Arrieta, Facundo Coria, and Collin Martin. What do you want to see Ben Olsen do on Sunday?