After securing its place in the Concacaf Champions League quarterfinals, D.C. United welcomes the Philadelphia Union to town. The starters, for the most part, have been the same for most of the season, where the ebb and flow of injuries and suspensions have allowed various different players to get some time without Olsen having to make many truly hard decisions. However, with players getting healthy, the time for those decisions have come.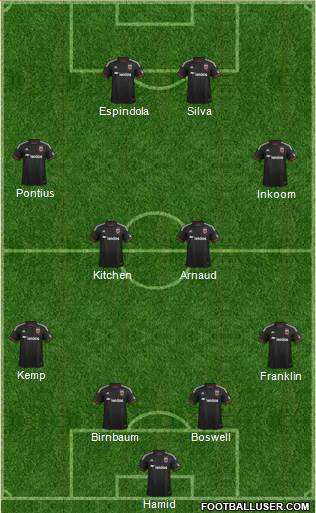 The biggest change is on the wings: Samuel Inkoom will start over Nick DeLeon and Chris Pontius over David Estrada. DeLeon has been a curious case this year: while not as bad as he was last year, he has been mostly invisible throughout the entire season, especially without anyone to push him for time. With the signing of Samuel Inkoom, that competition is here, and with Inkoom's lovely assist in the Concacaf Champions League game, I think that Ben Olsen will give him at shot in MLS play. After his performance against Tauro as well, Chris Pontius edges out David Estrada for the starting spot on the left wing, though Estrada should see some second half time.
In the back line, Taylor Kemp is still ahead of Chris Korb, though the gap is quickly closing. However, I don't think Olsen will want to have to burn a sub on a fullback, and so Korb is still probably a week or two away from full ninety minute fitness. After that, the rest of the back line stays the same, with Sean Franklin, Bobby Boswell, and Steve Birnbaum. Finally, Eddie Johnson will remain the super sub as Fabian Espindola and Luis Silva get the start as forwards.
With this lineup, the subs would be Joe Willis, Kofi Opare, Nick DeLeon, Lewis Neal, Alex Caskey, Eddie Johnson, David Estrada. That means that players like Jared Jeffrey, Collin Martin, and Michael Seaton are all being left off of the bench, showing the depth of the team right now. When Chris Rolfe comes back, this team will have weapons off the bench galore.
What do you think that Ben Olsen will do this Saturday?