This Friday, D.C. United will welcome Sporting Kansas City to RFK Stadium in a game that has big playoff seeding implications. A win for D.C. United keeps them atop the Eastern Conference, with the taste of another year of Concacaf Champions League (and the allocation money that comes with it) on their lips. Another loss for Sporting Kansas City will continue their tailspin and put them in real danger of playing in the knockout round game. Every single point is critical right now, so can D.C. United channel its killer instinct?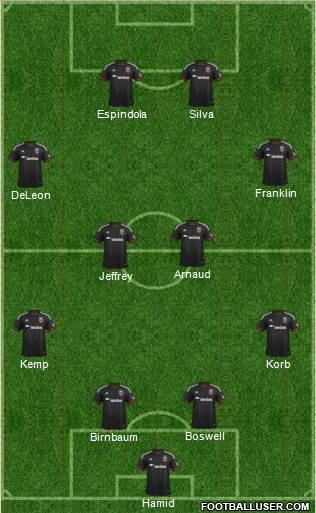 One of the main questions is what to do with Nick DeLeon. After a season of playing competently, but mostly invisibly, DeLeon looked lively and dangerous when attacking on the left hand side of the field. With Chris Pontius and Chris Rolfe both playing there as well, Ben Olsen will have to make some tough decisions; there is not enough room on the field for all of them to play, and there will be times when two of those three start on the bench when all are healthy.
However, with Perry Kitchen out again due to yellow card accumulation, I think that Ben Olsen runs out a lineup that has Sean Franklin in the midfield and Chris Pontius on the bench. Despite their tailspin, Sporting Kansas City can be dangerous offensively, and Franklin will likely cut into the middle defensively to help out Davy Arnaud and Jared Jeffrey, who will replace Kitchen. Other than Jeffrey, the rest of the lineup will be the same as against the Philadelphia Union.
With this lineup, the substitutes would be Joe Willis, Samuel Inkoom, Kofi Opare, Lewis Neal, Alex Caskey, Eddie Johnson, and Chris Pontius. How do you think that Ben Olsen will replace Perry Kitchen for this game?