D.C. United are back in action this Saturday, fighting for their playoff lives against the New York Red Bulls at RFK Stadium. The rumors are the that Metros will be bringing close to 1,000 fans to the game, so United fans will need to be in their normal, raucous voice. It all comes down to this, and a 3-0 victory is the easiest way for United to move on. Will this lineup be able to do it?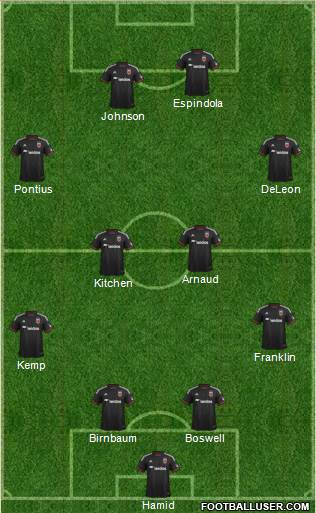 The big problems are what to do with Chris Rolfe and Luis Silva when both of them are, at best, 45 minutes fit. Despite his poor performance in the last game, you have to start Fabian Espindola, so Ben Olsen will have to try and fit those two players plus Eddie Johnson and Chris Pontius into two spots on the field. My guess is that Olsen starts with the same lineup he did in New York, with Pontius on the left wing and Eddie Johnson up top, but is quick to bring on Rolfe and Silva should the situation require.
If Johnson, Espindola, Nick DeLeon, and Pontius can run down the New York midfield and defense for 60 minutes, then hopefully Rolfe and Silva can deliver if need be. However, the risk with using them as subs is if the game goes into extra time will they be able to play an extra 30 minutes. There are many factors influencing Ben Olsen's lineup this weekend.
The other battle is at left back, where Chris Korb and Taylor Kemp will be battling for the spot opposite Sean Franklin. I have seen all of the arguments for Korb, but I think that Kemp has been a little better in the attack this year, and so I give the nod to him. It also helps that he will be on the smaller field of RFK, with help even closer at hand should he need it.
With this lineup, the bench would be Joe Willis, Kofi Opare, Chris Korb, Lewis Neal, Jared Jeffrey, Chris Rolfe, and Luis Silva. What do you see Ben Olsen doing on Saturday>