After sending a reserve team to Panama to clinch the top overall spot in the Concacaf Champions League, D.C. United's regulars will be back in the lineup against the Montreal Impact in the regular season finale. United have clinched everything that it is possible for them to clinch, but having the regulars out there will help the team keep its momentum going as the playoffs start next weekend (at least for United). Also, a win would break United's team record for most points in a season, which is currently a three way tie on 58 points between 1998, 2012, and 2014.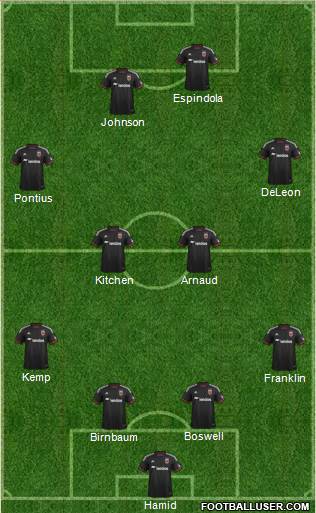 No surprises in the starting lineup, as I said above, especially with the reserves traveling and playing 90 minutes on Tuesday. That means Taylor Kemp, Steve Birnbaum, Bobby Boswell and Sean Franklin in defense in front of Bill Hamid, and Chris Pontius, Perry Kitchen, Davy Arnaud, and Nick DeLeon in the midfield. With Luis Silva still out, it means that Eddie Johnson will partner with Fabian Espindola up top. Continuing to have this core group play together is important right now, and since the team will not have to play a midweek game the rest of the season, they have have the first-choice starters out there every time.
The main change I see coming to the bench is the return of Chris Rolfe, who has been practicing regularly this week. Unlike a muscle injury where easing back in is key to prevent re-injury, Rolfe should be able to just jump back in (though I am sure they will keep his arm well protected). I would love to see a cameo from him in this game, maybe 10 or 15 minutes, to start getting him back into playing form for the playoffs. The return of Rolfe will give the team a creative weapon off the bench that they haven't had since Silva got hurt and Eddie Johnson came back into the starting lineup. Alongside Rolfe on the bench will be Joe Willis, Kofi Opare, Jared Jeffrey, David Estrada, Lewis Neal, and Chris Korb.
What are your thoughts on Saturday's lineup?