D.C. United comes into this game with one thing in mind: locking up first place in the Eastern Conference. A draw or a win will do that for D.C. United, and they are playing against the draw kings of MLS, the Chicago Fire, but a win keeps them above other playoff teams in the race to host MLS Cup. With Luis Silva the latest victim of D.C. United's string of injuries and out 4-6 weeks, someone else will have to step up; who will it be?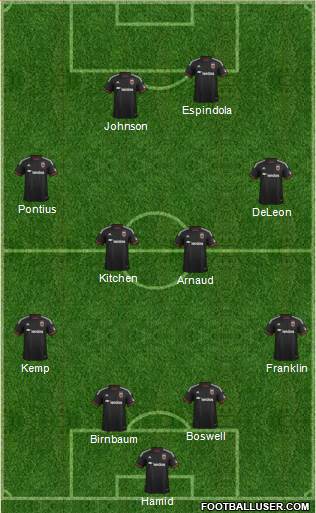 The only change to last week's lineup is that Eddie Johnson will come in for Luis Silva and will start alongside Fabian Espindola. What we saw out of Johnson in that last game, however, was not a typical target man performance: instead, he played on the ball and dropped deep into the midfield, echoing the role that Luis Silva was playing before. If he continues to play that role alongside Fabian Espindola, their partnership might work better than it did at the beginning of the year. Another option would be to put Chris Pontius up top and then move Eddie Johnson to the left wing, but I don't think that Ben Olsen is likely to do that.
The rest of the midfield is also the same, with Pontius joined by Davy Arnaud, Perry Kitchen, and Nick DeLeon. Taylor Kemp will keep his spot at left back after scoring a goal and continuing to put up good performances, but Chris Korb is always there lurking. Bobby Boswell, Steve Birnbaum, and Sean Franklin round out of the defense, and Bill Hamid will be between the pipes. Finally, the subs for this game will be Joe Willis, Kofi Opare, Samuel Inkoom, Chris Korb, David Estrada, Jared Jeffrey, and Michael Seaton. What do you want Ben Olsen to do to replace Luis Silva?