If you look only at the evidence of the previous Concacaf Champions League game between Waterhouse FC and D.C. United, you might think that United would be sending out another squad full of backups when the team travels to Jamaica. However, the evidence points to a different conclusion. First of all, both Collin Martin and Conor Shanosky played in the Richmond Kickers' playoff game on Saturday. Secondly, the team has an extra day of rest versus a typical midweek game. And finally, Twitter and Instagram has players like Bill Hamid, Samuel Inkoom, and Perry Kitchen on the plane. So if not the backups, who will start for D.C. United in this game?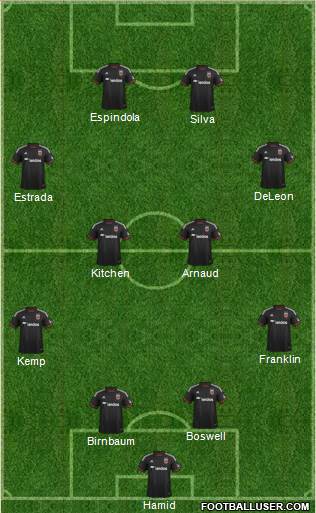 As I alluded to above, I think it will be a team of starters. A win in this game would put United on the fast track to the next round, as they would only require one point in either of the games against Tauro to confirm their spot. So that means that Fabian Espindola, whose suspension for the weekend is currently still on the books, will start as a forward alongside Luis Silva. In the midfield, it will be as expected as well, with Nick DeLeon, Perry Kitchen, Davy Arnaud, and David Estrada.
The defense is where there is the possibility of some changes. Samuel Inkoom and Kofi Opare both traveled, and both could push for starting time. I think Opare is the more likely to start, but that Inkoom will make his United debut tomorrow night. With this lineup, the subs would be Joe Willis, Samuel Inkoom, Kofi Opare, Lewis Neal, Chris Pontius, Jared Jeffrey, and Kyle Porter.
What do you want to see Ben Olsen do against Waterhouse?