D.C. United takes on Tauro FC tomorrow night in Panama in the last game of the group stage of the Concacaf Champions League. A win for the team would make it likely that they would be one of the four seeded teams, which is usually a ticket to avoiding teams from Mexico in the first round; however, in a twist of fate only one Mexican team is currently on track to get a seeded position. However, the task at hand is to win this game, and it is a chance for Chad Ashton and a team of backups to prove themselves in a hostile environment.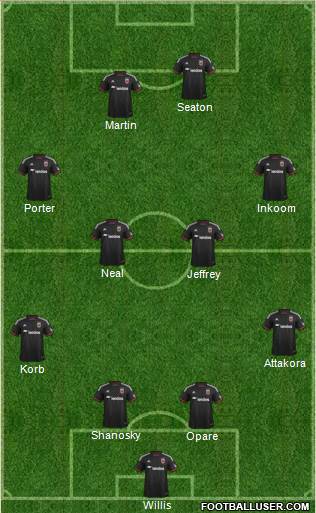 D.C. United has said that they will take 13 reserves and an MLS pool goalkeeper to Panama for this game, and that they will be coached by Chad Ashton and Preston Burpo. With such few choices, the starting lineup is most of the lineup. The back line will be Chris Korb, Conor Shanosky, Kofi Opare, and Nana Attakora; if Korb is not chosen to play due to the fact that he is a key sub for the first team, Alex Caskey would play left back. A midfield of Kyle Porter, Lewis Neal, Jared Jeffrey, and Samuel Inkoom will provide some creativity for the backups, while Collin Martin and Michael Seaton will form an all-homegrown strike pair.
With this lineup, the substitutes would be Alex Caskey, Jalen Robinson, and likely Daniel Withrow, the MLS pool goalkeeper. What do you think that Chad Ashton and Preston Burpo will do tomorrow night? Do you agree with Ben Olsen's decision not to go?