As if the 3-1 loss to Costa Rica in World Cup Qualifying was not enough, the game resulted in a number of players for the United States being either injured or suspended for the even more critical match against Mexico. Michael Bradley was injured in warmups, Matt Besler and Geoff Cameron both picked up yellow cards and are suspended, and Jozy Altidore is both injured and suspended. Joe Corona, Jose Torres, Brad Davis, and Clarence Goodson were the players added, but all this churn leaves the obvious question: Who is going to play in Columbus tomorrow night?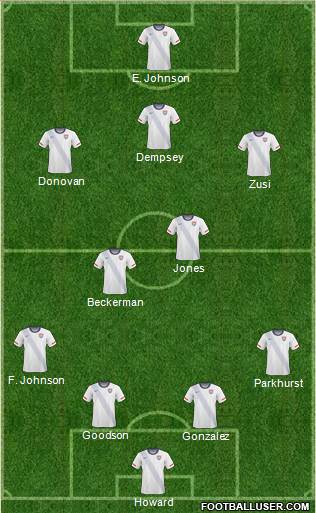 The spine of this team is fairly easy to predict. Tim Howard will obviously start in goal, and Clarence Goodson and Omar Gonzalez will be in front of him. Goodson is really the only option left, with John Brooks returning to Hertha Berlin and with Michael Orozco being Michael Orozco. Central midfield will be Kyle Beckerman and Jermaine Jones, as it probably should have been against Costa Rica. I am no huge fan of Beckerman, but I will take him as a backup central midfielder over Geoff Cameron any day (unless Cameron returns to the midfield full time for his club). Finally, the strikers will be Eddie Johnson leading the line, with Clint Dempsey tucked underneath; the same logic for John Brooks applies here as well for Aron Jóhannsson.
But that leaves us with the fullbacks and the wingers. The Costa Rica game exposed all of the problems with having DaMarcus Beasley as your left back: He is not physical enough to survive as a fullback on the full international level. So even though he was captain for the Gold Cup, Beasley goes back to the bench and Fabian Johnson slides back to left back. Moving Johnson back helps simplify the wingers, with Landon Donovan moving to left wing and Graham Zusi staying in as the right winger. All that leaves is right back and a choice between Michael Orozco and Michael Parkhurst. Despite the fact that Parkhurst has no appearances for Augsburg yet this season, I will still take him over Michael Orozco.
What is your preferred starting XI for the USA's key qualifier against Mexico?
More from Black and Red United: