In case you were living under a rock and didn't know, the United States is taking on Costa Rica tomorrow night in their seventh match in the Hexagonal. Should the US win this game, they will have all but clinched their spot in Brazil; a tie would be acceptable, and a draw would not be too surprising given the difficulties of playing World Cup qualifiers in Central America.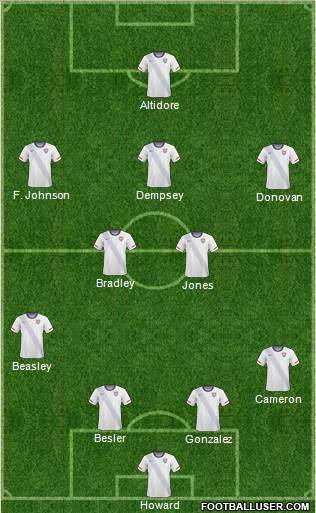 But despite his early proclivity for changing his lineup with every game, Juergen Klinsmann has finally found his lineup over these past few matches. The back line for the United States consists of two central defenders and two midfielders, as the team has yet to find fullbacks that can stay healthy and play well. But Geoff Cameron and DaMarcus Beasley have proven to be solid enough defenders and the United States went through the entire Gold Cup with a stay at home right back. Matt Besler and Omar Gonzalez are a solid center back pairing, especially if Gonzalez can cut down on his mental lapses.
The midfield lineup is also a surprise to no one. Michael Bradley and Jermaine Jones and the rocks of this team, Clint Dempsey is the captain, and Landon Donovan conquered all of CONCACAF during the Gold Cup. I suppose it is possible that Eddie Johnson might start on the left wing, but Klinsmann seems to like him more as an impact substitute rather than a starter.
The only question mark is at striker. Jozy Altidore apparently injured a hamstring in a Sunderland match, but has been declared injury-free. Should, for some reason, he be unable to go, I would swap in Aron Jóhannsson and keep the rest of the lineup the same.
What lineup do you want to see tomorrow night in Costa Rica?
More from Black And Red United: