Projecting the lineup for the United States' trip to Estadio Azetca to play Mexico is always a tough task, complicated further by Juergen Klinsmann's refusal (or inability due to injuries) to run out the same lineup twice and the fact that one of his most trusted players, Jermaine Jones, will not be able to play due to injury. Many fans are going to want to see a similar lineup to what we saw in Denver against Costa Rica; while I may want to see that too, I think that Klinsmann will revert to his three holding midfielders lineup against the threat of Mexico's attackers.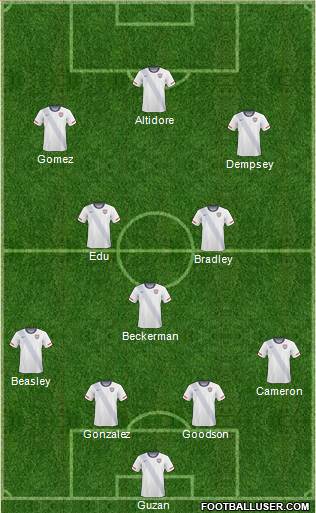 This lineup contains the straight swap of Maurice Edu for Jermaine Jones and the positional switch that takes out Graham Zusi and puts in Kyle Beckerman. Beckerman will take the deepest position right in front of the back four, with Michael Bradley and Maurice Edu in the more box to box roles. Remember, Beckerman, Jones, and Danny Williams all started in the midfield for the United States' only win at Azteca.
With three in the midfield, that leaves Clint Dempsey, Jozy Altidore, and Herculez Gomez to try and create offense. While Jozy was able to produce some of the hold-up play that fans have cried for from him, we will see if he is able to replicate that play with one less attacker. If, by Brankotime (the 55th-60th minute), this attack is not working, hopefully Klinsmann will take out one of the holding midfielders and shift back to a 4-2-3-1; a sub of Graham Zusi or Eddie Johnson for Kyle Beckerman would allow for such a shift.
I know that most of you will likely want to see the attacking lineup we saw in Denver. Given that, tell me what you think we will actually see tomorrow night at 10:30 Eastern time.