The United States takes on Costa Rica this Friday in Denver in a must win game, especially with a visit to Azteca right on the heels of this game. No one really knows what lineup the mercurial German will run out, but that doesn't stop us from trying. My hope is that he will try a slightly more attacking lineup when at home, with only two defensive midfielders rather than his normal three. With that in mind, this is my predicted lineup for the game this Friday: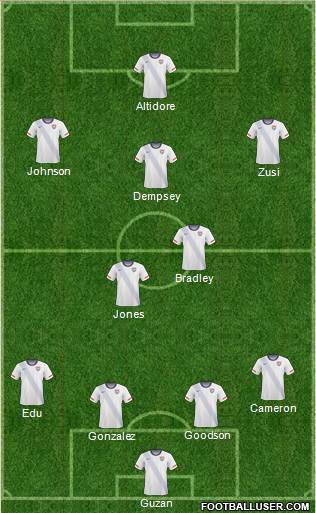 The main question is left back: I could see anyone playing there, especially since Klinsmann has famously said that anyone can play left back. The primary contenders are DeMarcus Beasely, Maurice Edu, and Justin Morrow,. The injured Brek Shea is also a possibility, but I see him more as a late game sub, what with his injured foot still bothering him. However, with Klinsy's glowing comments about Mo Edu this week, I think that he will find a place for him somewhere and that somewhere is left back, with center back a close second and defensive midfield a wild card in third. Virginia's own Clarence Goodson has been in poor form this season so far, but he has more experience than the rest of the back line combined and is good in the air to boot. He has been starting for Brondby in recent games, so at least that is a good sign.
The rest of the team seems to pick itself, its just a matter of where the pieces will fit. Jermaine Jones and Michael Bradley are obvious starters, as are Captain Clint Dempsey and Jozy Altidore. The wings have options, but I think that Eddie Johnson is a starter, especially if Brek Shea is not 100%. Herculez Gomez is an option on the right, but this lineup lends itself more to Graham Zusi's service and Herc as a late game super sub.
Who do you all want to see on the field tomorrow and, more importantly, who do you think we will see?