With all of the moves that D.C. United have made so far this offseason (and especially this week), speculation naturally turns to how the team will fit all of these players into their lineup. Obviously, there will be more moves to come, including draft picks, as well as the knowledge that will come after we begin to see these players in preseason games. Also, some of these players are not technically signed to the team yet, like Fabian Espindola, or are player who we expect to sign new contracts, like Eddie Johnson.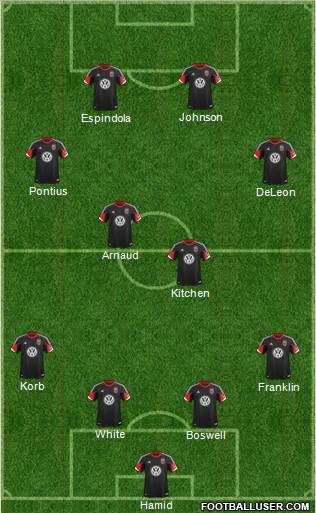 The main questions are in the front six, as we talked about on the most recent episode of Filibuster. For the back line, an opening day lineup of Chris Korb, Ethan White, Bobby Boswell, and Sean Franklin all in front of Bill Hamid seems very likely. With the presumed transfer of Dejan Jakovic, Ethan White is the current best guess for the second starting center back; obviously, possible future signings, draft picks, and preseason performance can and will change this. The same applies to Chris Korb as well (and really most everyone throughout the team).
With the front six, you have to fit eleven players into those starting spots: Perry Kitchen, Jared Jeffrey, Davy Arnaud, Luis Silva, Chris Pontius, Nick DeLeon, Fabian Espindola, Conor Doyle, Eddie Johnson, Lewis Neal, and Michael Seaton. I would assume that Seaton is likely to go to Richmond for at least part of the season, and Lewis Neal seems unlikely to claim a starting spot with all of the new signings so far. With all of the other options at his disposal, Ben Olsen will be able to rely on performance in practice to chose his starting 11, as he did in 2012, rather than just throwing out whatever he had left.
I know this isn't most people's preferred starting 11 for March 8, but I think that it is the one that we will see. What do you think?
More from Black And Red United