The quirks of MLS scheduling, particularly in-conference scheduling, are at work again with D.C. United facing the Montreal Impact for the second time in as many weeks. United will likely revert to the team that had so much success against the Impact two weeks ago, while finding time to also work in the younger players later in the game.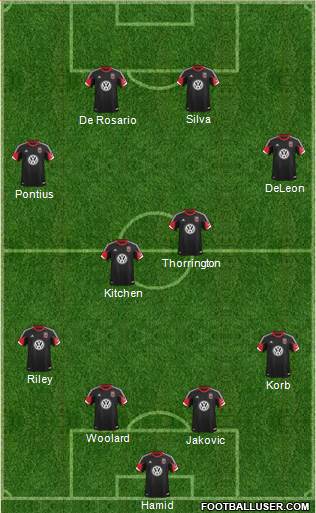 While it was nice to get the kids out there against the Philadelphia Union, Dwayne De Rosario will make his return to the lineup. As I have said before, John Thorrington's position versus Jared Jeffrey is more tenuous, but I think that he will get the start against Montreal as well. Collin Martin, Conor Doyle, and Jared Jeffrey should all see plenty of time as subs, but the old hands need to be sharp for the Open Cup final in October.
The main question about this lineup is the health of Luis Silva. Should he be ready to go, we will see him pairing Dwayne De Rosario up top; if not, Conor Doyle will step into the lineup in his place. There is also a question about the health of Chris Pontius, who I assume was held out last week for a little additional time to heal. I hope and expect to see him back, but Kyle Porter will slide in should he not be available.
There is a new addition to the fullback corps, Dennis Iapichino, who will compete with Chris Korb and James Riley for playing time. Iapichino is normally a left back, but both Korb and Riley have played on both sides, making this a three way battle for playing time. I highly doubt that he will get the start against Montreal, having been signed so late in the week, but he is definitely in contention for a start next week against Toronto FC. Iapichino is the second left Swiss left back that United has acquired this year, having been waived by the Impact last week. Prior to coming to Major League Soccer, Iapichino played 57 games in the Swiss second division.
With this lineup, the subs would be Joe Willis, Ethan White, Taylor Kemp, Jared Jeffrey, Conor Doyle, Collin Martin, and Kyle Porter. Who do you want to see line up against the Montreal Impact?