After a drubbing in Chicago, D.C. United returns to Robert F. Kennedy Memorial Stadium to take on the New England Revolution this Saturday. They will try to earn points without the services of Chris Pontius, who has not yet been in training this week, and likely without the services of Dwayne De Rosario, who is coming back from injury. This could be a time to experiment with different parts, seeing how they fit in and seeing who might be worth keeping around for next year.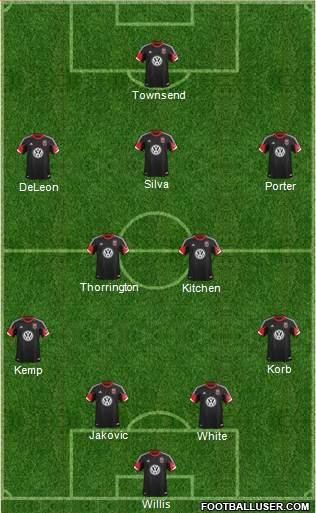 Ben Olsen said that he wanted to work Conor Doyle in over the next few weeks, but that we would be seeing him sooner rather than later. Well, given the sorry state of United's forward corps and the injury to Dwayne De Rosario, Doyle could very well be an option to start, but I figure he will get at least one substitute appearance before making his first start. That leaves us with Carlos Ruiz, Lionard Pajoy, and Casey Townsend, and with Townsend being the one who hasn't started in the longest time, he gets the nod.
The midfield is fairly easy to predict due to injuries. I doubt that Chris Pontius will be back in time to start, and Olsen is being cautious and not rushing back De Rosario too quickly either. The main question will be how to get Luis Silva and Dwayne De Rosario on the field at the same time down the stretch, but depending on DeRo's contract status and negotiations, that might only be a half season concern.
With this lineup, the subs would be Andrew Dykstra, Daniel Woolard, James Riley, Jared Jeffrey, Conor Doyle, Carlos Ruiz, and Dwayne De Rosario. Who do you want to see on the field against the New England Revolution?