After Adam's thought experiment on the diamond 4-4-2, and with our very own Chest Rockwell pining for a 4-3-3, I figured that I would want to get into the fun as well. The formation that I shall champion, at least for the purposes of this series of articles, is one of the most quintessential American formations: the empty bucket 4-4-2.
The United States men's national team played the empty bucket, of course, and was able to counter-attack against stronger opponents, often snatching away results that they had no business having. The Confederations Cup games against Spain and Brazil, Landon Donovan's miracle goal against Algeria, and even Chelsea's performance against Barcelona in the Champions' League final show the power that a counter-attacking team can have. The philosophy is simple: absorb pressure from your opponent and then use your speed and strength to exploit mistakes. D.C. United proved last year (as well as in 2010) that winning the possession battle does not mean a thing if you are unable to do anything dangerous with that possession.
While very few would ever admit that the empty bucket is their favorite formation, it has a balance of features that I think can work for this season's D.C. United. But before we get any futher, let us define a few terms. The empty buck is, traditionally, any 4-4-2 that has two forwards and two holding midfielders, with the eponymous empty bucket between them. Bob Bradley's USMNT made the walls of the bucket even steeper, with the two "wide" midfielders often cutting into the middle and leading to the 4-2-2-2 designation. It is the Bradley style that I shall be advocating today.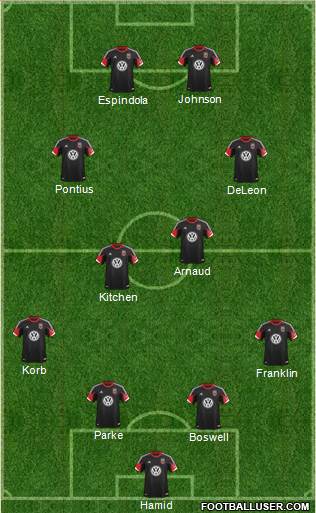 As I just mentioned, the 4-2-2-2 that Bob Bradley ran would have Landon Donovan and Clint Dempsey cutting in from the wings, both to interact more with the rest of their teammates but also to force the opposing players wide. As also mentioned in the other pieces, pinched-in "wide" midfielders also alleviates the problem of wing depth for United, allowing players like Luis Silva, Lewis Neal, or Fabian Espindola to find time on the wings if needed, in addition to the more traditional winger in Kyle Porter.
The 4-2-2-2 also features to more defensive central midfielders, which in turn helps protect a slow back four. As have been mentioned in both other pieces, United now have plenty of players that can play alongside Perry Kitchen (or to spell Perry Kitchen). That tandem in particular, and the whole midfield line in general, help to break-up play in the middle of the field and protect a slow back four from being beaten for pace. Oguchi Oneywu and Carlos Bocanegra were never the swiftest of center backs, and neither are Jeff Parke and Bobby Boswell; what they are good at is heading balls away, defending in the box, and getting the ball to the fullbacks or midfielders to restart the attack.
In this very narrow formation, the only width is going to come from two attacking fullbacks who are able to bomb up the field. Chris Korb and Sean Franklin are ready to fit that bill, especially with Korb's switch back to his preferred left side. The counter-attacking 4-2-2-2 also has an advantage over Ben Olsen's favored 4-2-3-1 in that it puts more attacking prowess on the field, with two forwards, while still protecting the back four with two defensive midfielders. When Korb and Franklin are streaking up the field to get into the attack, there are still four players in defense, ready to cover in case the attack breaks down.
It also fits the forwards that the team has, with Eddie Johnson and Fabian Espindola as the starting pair. Eddie Johnson can play as a central target forward, but can also play facing the goal and with the ball at his feet. Conor Doyle and Michael Seaton are ready to step into that role as well when Johnson is away for World Cup duty. Fabian Espindola fits the speedy second striker role, with Chris Pontius ready to move into the role as well if Espindola is hurt or out of form.
| | | | |
| --- | --- | --- | --- |
| Position | First Choice | Second Choice | Third Choice |
| Goalkeeper | Bill Hamid | Joe Willis | Andrew Dykstra |
| Right back | Sean Franklin | Chris Korb | Jalen Robinson |
| Right-center back | Bobby Boswell | Steve Birnbaum | Nana Attakora |
| Left-center back | Jeff Parke | Steve Birnbaum | Nana Attakora |
| Left back | Chris Korb | Taylor Kemp | Travis Golden* |
| Right midfielder | Nick DeLeon | Luis Silva | Kyle Porter |
| Defensive midfield | Perry Kitchen | Jared Jeffrey | Lewis Neal |
| Defensive midfield | Davy Arnaud | Jared Jeffrey | Lewis Neal |
| Left midfield | Chris Pontius | Kyle Porter | Conor Doyle |
| Center forward | Eddie Johnson | Conor Doyle | Michael Seaton |
| Second forward | Fabian Espindola | Chris Pontius | Luis Silva |
The main difference between this formation and both Adam's 4-4-2 diamond and Chest's 4-3-3 is not the players on the field or their general roles; all of this stays fairly similar, despite slightly different orientations of these players on the field. The main difference is ceding possession to the other team and developing a commitment to the counter-attack. This year's team speed is greatly improved over last year's, with Eddie Johnson, Fabian Espindola, and Chris Pontius all ready lead counters with Chris Korb, Sean Franklin, and Nick DeLeon supporting them as well.
Another thought, that we might want to explore more deeply in another piece, is the conflicting ideas of Luis Silva's role based on these different formations. In both a 4-3-3 or in the 4-2-2-2, Silva is relegated to the bench; in a diamond 4-4-2, he is the centerpiece of the offense. His performance this preseason, more than any other individual player, may decide what formation the team will play.
This is not the formation that I want D.C. United to play for the long term, or even for the entirety of this season. I would love to see the team play a possession orientated style of play that actually leads to goals. But I think that this kind of team can be effective this season, or even for half of this season, as they try to integrate all of these new players into the team.
More from Black And Red United