After two games in the Concacaf Champions league, D.C. United comes back to Major League Soccer to open the regular season. They do so by taking on their old rivals out in Carson, California: the LA Galaxy. The Galaxy have gotten a lot older and a lot stranger this season, and their performance in the CCL was even worse than United's.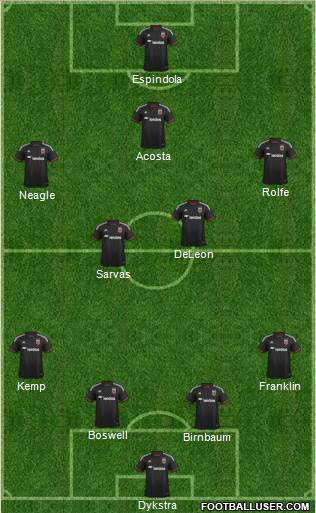 The fundamental shape of the team, the 4-4-1-1, will likely stay the same. For the defense, that means that Sean Franklin, Steve Birnbaum, Bobby Boswell, and Taylor Kemp will all play in front of Andrew Dykstra. As we have noted before, Boswell and Birnbaum have swapped center back spots, with Birnbaum playing on the right and Boswell playing on the left.
The central midfield is still coming together, with four players having time there in the last game against Queretaro: Nick DeLeon, Marcelo Sarvas, Markus Halsti, and Julian Buescher. Buescher is unlikely to get the start in central midfield in this game, but his performance in the Queretaro game shows that Ben Olsen thinks he can be a central midfielder, and not just the playmaker behind Fabian Espindola.
Marcelo Sarvas is extremely likely to start, given his performance in the CCL, which brings the last spot down to Nick DeLeon or Markus Halsti. DeLeon in a central role is a promising experiment that has not yet come together fully, and Halsti is still recovering from a calf injury. I give the advantage to DeLeon, but Halsti and Buescher are closing.
This is the first game in which Lamar Neagle is available for D.C. United, and he throws in more wrinkles into United's already crowded attacking corps. I think that Chris Rolfe needs to start, and will do so on the right because Neagle will edge out Nyarko and need to start on the left. Fabian Espindola and Luciano Acosta will make up the front-line attackers.
With this lineup, the substitutes would be Charlie Horton, Kofi Opare, Patrick Nyarko, Markus Halsti, Julian Buescher, Alvaro Saborio, and Miguel Aguilar.
What do you want to seen Ben Olsen do Sunday evening?