D.C. United is in a funk. You know it, I know it, Ben Olsen knows it. The choice facing Ben Olsen is whether to try and stick with his current lineup in an attempt to build coherence or sub in new players to try and spark a moribund attack and a deficient defense. So far this season, Olsen has tried to stick with players to allow them to build some momentum, but I have a feeling that this will be the game in which he starts to make changes.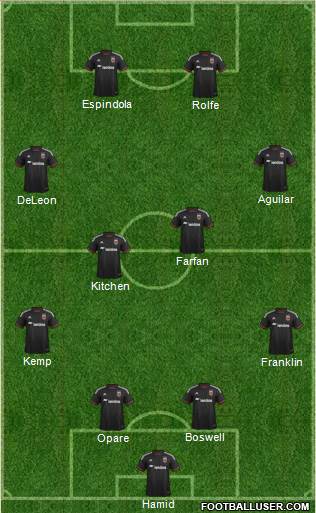 With Steve Birnbaum suspended due to yellow card accumulation, Kofi Opare is the obvious choice to step into central defense. His play in this game will determine whether or not there will be a competition at that position: Birnbaum has been questionable his past few games, but so was Opare in his last appearance.
The bigger changes I want to see are bringing the two stars of the Concacaf Champions League group stage into the starting lineup for the team in MLS play. I think that Michael Farfan could pair with Perry Kitchen in the center of midfield, and that Miguel Aguilar could come in at right midfield. CCL group stage is not the best competition, but these two players have confidence and have shown an attacking flair that has been lacking in league play.
These two moves mean that players like Markus Halsti, Chris Pontius, and Alvaro Saborio would be pushed to the bench, and that the forward partnership of Chris Rolfe and Fabian Espindola would be renewed. With this lineup, the bench would be Andrew Dykstra, Luke Mishu, Halsti, Pontius, Saborio, Jario Arrieta, and Facundo Coria.
What do you want to see Ben Olsen do this Friday?