D.C. United take on the Columbus Crew this Saturday (right after our meetup), and it seems like Ben Olsen has, at least temporarily, settled on a lineup. Players have mentioned their wish that they team had been able to play with a consistent lineup but, with the team racked with injury so far this year, that just hasn't been possible. With his first chance to select the same lineup for two games in a row in awhile, will Ben Olsen do so?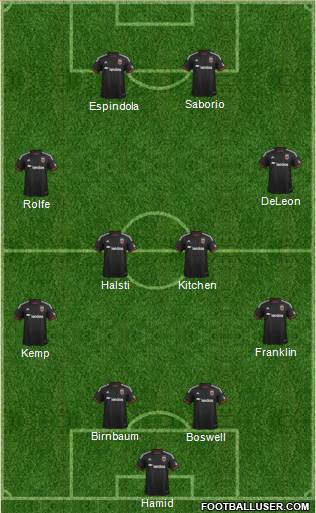 With Davy Arnaud still out injured, Olsen had a choice between Markus Halsti and Michael Farfan for the starting spot beside Perry Kitchen; last week, he chose Halsti for the MLS match and Farfan for the Concacaf Champions League game. Now, Farfan could probably start in this game, physically, but I think Ben Olsen tipped his hand last week. He is going to want this new central partnership to grow, so by the time the playoffs come around it will hopefully be clicking.
Same with the forward line: neither Alvaro Saborio or Fabian Espindola looked particularly good last game, but they will start together again. We know that Espindola just needs some time to get back into the flow of the game, and we are pretty sure that Saborio is a better player than he showed last week. Jairo Arrieta could be subbed in, but Olsen has to make a decision and I bet it will be Saborio. The back line will remain the same, and obviously Bill Hamid will be in goal.
With this lineup, the substitutes will be Andrew Dykstra, Kofi Opare, Chris Pontius, Jairo Arrieta, Conor Doyle, Michael Farfan, and Miguel Aguilar. How important do you think having a consistent lineup is going down the rest of the reason and into the playoffs?