D.C. United travel to Colorado this weekend to take on the Colorado Rapids, needing a win to break them out of a recent funk. The Rapids have been bizarro-DCU in the results, with a bad majority of the season changed by a string of recent good form. Hopefully the mirroring will continue, since Colorado lost last night to Vancouver. With a mostly healthy lineup for once, who will Ben Olsen chose to start?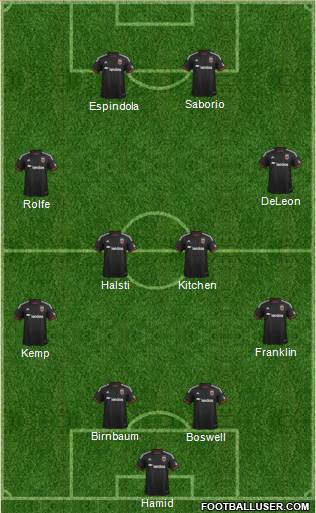 The closest battle is in central midfield, where Perry Kitchen, Markus Halsti, and Michael Farfan are all battling to fill two spots. Kitchen is likely to start, but his recent form has been worse than we have come to expect from the fringe national team player. Olsen has been known to bench players to send a message, regardless of their perceived position on the team, but I think Kitchen is still safe. Davy Arnaud still seems to be battling concussion symptoms, so he is out of the race right now.
Markus Halsti and Michael Farfan provide two very different options to pair with Kitchen: Halsti is the more defensive minded player, whereas Farfan is an attacker. Ben Olsen has tried to get Farfan on the field as much as possible since he has returned to health, but now that Fabian Espindola is back Olsen will have to make a choice. I lean slightly towards him picking Halsti since they are on the road, but it wouldn't surprise me at all to see Farfan.
The rest of the lineup is fairly predictable, with a back line of Bobby Boswell, Steve Birnbaum, Sean Franklin, and Taylor Kemp all in front of Bill Hamid. The rest of the midfield is Chris Rolfe and Nick DeLeon, with Alvaro Saborio and Fabian Espindola starting up top. With this lineup, the bench would be Andrew Dykstra, Kofi Opare, Chris Pontius, Michael Farfan, Conor Doyle, Jairo Arrieta, and Miguel Aguilar.
What do you want to see Ben Olsen do on Saturday?