D.C. United takes on the New York Red Bulls for the third time this season, and the Atlantic Cup is on the line. Ben Olsen has the dual benefit of having rested most of his regular starters, but a Tuesday-Sunday game gap means that he could insert any of his backups who played against Montego Bay United FC.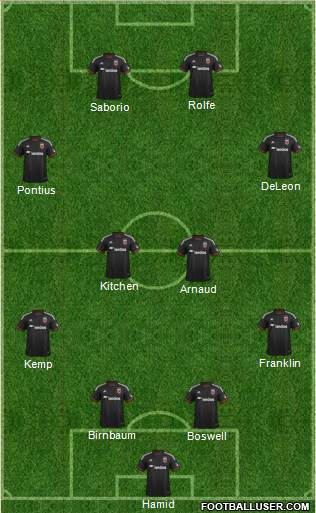 The big question remains at central midfield. Davy Arnaud is playing well but getting old, Markus Halsti is still unproven in MLS play, and Perry Kitchen has not been as good as he was last year. Kitchen will definitely start, but I could see him lining up either player beside him, or throwing Michael Farfan into the mix for a different look too (though he did go 80 minutes on Tuesday). On the road Olsen likes to play conservatively, so I think he will go with Arnaud. However, look for Farfan to be one of the first subs off the bench, especially if the game needs changing; it may end up being him who supplants Arnaud, rather than Halsti.
In the attack, Nick DeLeon comes back into the starting lineup, and Chris Pontius (who played only 52 minutes on Tuesday) joins him as the left midfielder. This allows Chris Rolfe to stay up front and partner with Alvaro Saborio until Fabian Espindola gets back.
On the back line, Steve Birnbaum comes back in alongside Bobby Boswell, and Taylor Kemp and Sean Franklin are the fullbacks. Bill Hamid comes back in at goal after being cautious last week. Andrew Dykstra has given up most, if not all, of the early goals that have plagued United, and so hopefully having Hamid back will help prevent that from happening.
With this lineup, the subs would be Andrew Dykstra, Kofi Opare, Miguel Aguilar, Markus Halsti, Michael Farfan, Conor Doyle, and Jairo Arrieta. What do you want to see Ben Olsen send out on Sunday?