D.C. United kicks off their 2015-2016 Concacaf Champions League campaign this Wednesday, taking on Arabe Unido in Panama. Chad Ashton or Amos Magee will be in charge of United, since Ben Olsen was ejected in their 2-1 victory against Alajuelense in March and will serve his suspension Wednesday night. Olsen won't be the only person staying home, with the team likely to send a roster of backups, as they did last year.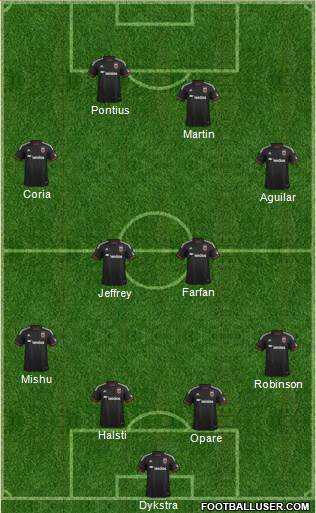 Finding appropriate backups for basically every position is fairly easy, if requiring some creativity. However, the one position where that is not possible is left back, due to the injury to Chris Korb; Korb sustained an ACL tear against New York City FC and looks to be out for a long time. Jalen Robinson seems likely to step into his place, with Luke Mishu on the other side. Robinson has mostly been playing center back for the Richmond Kickers, but the conventional wisdom seems to think that his eventual spot is at fullback. Kofi Opare and Markus Halsti will man the center of defense.
The midfield will consist of Facundo Coria, Jared Jeffrey, Michael Farfan, and Miguel Aguilar, which is a more attacking lineup than many United has used this year; it lacks a traditional defensive midfielder, but this will be good experience for both Jeffrey and Farfan. The starting strikers will be Chris Pontius, who will hopefully help build fitness, and Collin Martin, in a position much preferred for him rather than the wide midfield roles into which he has been forced.
With a league game on Saturday, I think the bench will be pretty light. Travis Worra, Steve Birnbaum, Perry Kitchen, and Jairo Arrieta will travel, but it wouldn't surprise me if United didn't fill the bench completely. What do you want to see Chad Ashton do on Wednesday night?