D.C. United travels to New York for what may be their first ever match in New York City proper, despite it being played on a tiny baseball field. Ben Olsen will have to deal with the continued absence of Fabian Espindola, who just can't stay on the field; however, his arsenal of other weapons grows larger by the day, and so we will hopefully see as close to a full-choice roster as we've seen since March (when Espindola was also absent).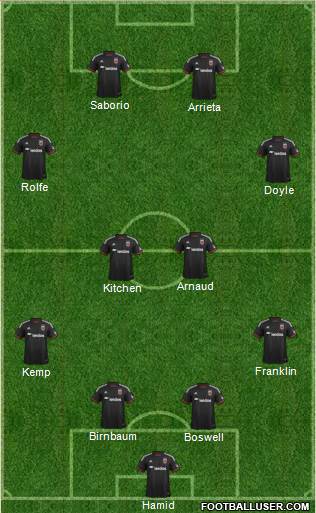 Despite calls to the contrary, I think that Ben Olsen keeps his central midfield pairing of Perry Kitchen and Davy Arnaud for this game. Arnaud, despite his flaws, is perfectly suited for relentlessly pestering Andrea Pirlo and Frank Lampard along with Kitchen. Their assistant in that matter, playing the role of Nick DeLeon for this game, will be Conor Doyle, who comes in on the right side of midfield.
I wish that I could push Chris Rolfe up top and move Jairo Arrieta to the bench, but I don't think that Chris Pontius is yet ready to play even 60 minutes. Ben Olsen could go very inventive and put Sean Franklin into the midfield and Doyle on the left, but I think he would rather start integrating Franklin back in at right back in this game. That means that Jairo Arrieta will again pair with Alvaro Saborio, and hopefully they will able to forge a better partnership than they did this past week.
Speaking of the back line, Bobby Boswell and Steve Birnbaum will continue to man central defense, and I think that Sean Franklin will join them for his first start in months. That leaves the question of Taylor Kemp versus Chris Korb, one that I think that Kemp will win for this game. D.C. United is going to need and produce some offense for this game, and it might just have to come from Kemp. Korb is a definite possibility, though, if Olsen wants to make sure his defense is locked down tight.
With this lineup, the subs would be Andrew Dykstra, Kofi Opare, Chris Korb, Chris Pontius, Michael Farfan, Markus Halsti, and Facundo Coria. What do you want to see Ben Olsen do tomorrow night?