After a month of road games, D.C. United finally have back-to-back home games again, welcoming Real Salt Lake to RFK Stadium this Saturday. RSL are currently just outside of the playoff spots in the Western Conference, but would be tied for third place on points in the East. It seems like a given that Alvaro Saborio will start against his old team, but who will surround him this weekend?
Basically, it is the same cast as last week, due to players still recovering from injuries. However D.C. United posted some pictures last week of Chris Pontius, Sean Franklin, and Michael Farfan all practicing to one degree or another. Those four, combined with Markus Halsti, who picked up a knock late in the week, will be exerting some formidable pressure on the current starters.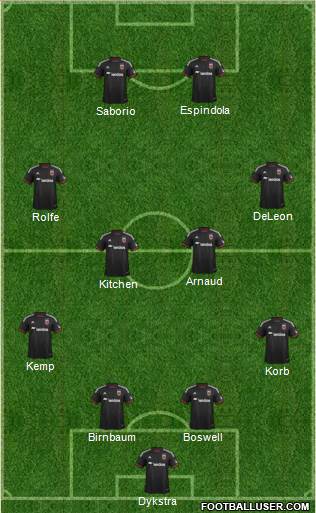 Fabian Espindola and Alvaro Saborio are basically guaranteed to start, so all of that pressure is going to come in the midfield, where Perry Kitchen is the only sure-fire starter. Pontius and Farfan will be competing with Rolfe and Nick DeLeon, though both of them have been very good recently. Farfan and Halsti will be competing with Davy Arnaud, and both of them give a different interpretation of the central midfield role, which is also different than what Arnaud himself brings.
I would assume that Sean Franklin will slip right back into his right back spot when healthy enough to do so, putting another competition in at left back. Taylor Kemp is typically the better offensive threat, but Korb's performance against Philadelphia makes the battle between them even closer.
With this lineup, the subs will be Travis Worra, Sean Franklin, Kofi Opare, Markus Halsti, Jairo Arrieta, Conor Doyle, and Chris Pontius. If/when everyone gets healthy, one of Pontius, Doyle, Arrieta, or Michael Farfan will have to be left off of United's 18 man roster.
What do you want to see Olsen do on Saturday?