After a disappointing defeat to FC Dallas, D.C. United finally take on another Eastern Conference team and get to come back home for the first time since Dave Grohl ruined the field to take on the Philadelphia Union. When we last met the DOOPers, they were beating United in the US Open Cup, despite being down a man. Who will take the field to make sure that United gets a different result this time around?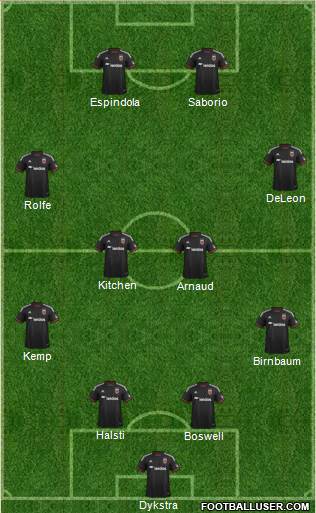 This happens to be the starting lineup that Ben Olsen had during practice this week, except that Nick DeLeon was off to the side for part of practice. With Chris Korb injured and Sean Franklin just coming back from injury, it looks like right back will fall to Steve Birnbaum. Olsen may be fine with that, because it would allow him to get Markus Halsti some game time while still leaving Davy Arnaud in the midfield. Because of Halsti's price tag, you have to think a change is coming sometime soon, and maybe this will allow Halsti to get enough sharpness to push him over the edge.
The other main question is whether or not Alvaro Saborio is ready to go ninety minutes for D.C. United. I think he should be, having played 13 MLS games so far this season and having to be ready at a moment's notice in the Gold Cup; so, why not just throw him in there? If Olsen judges that he is not yet ready to start, then Jairo Arrieta would start in his stead.
With this lineup, the subs would be Travis Worra, Kofi Opare, Sean Franklin, Jairo Arrieta, Miguel Aguilar, Conor Doyle, and Jared Jeffrey. What do you want to see from Benny Olsen this Sunday?