D.C. United takes on the Seattle Sounders tomorrow night, ending a long stretch of games with minimum rest. It also means that United only has one more consecutive game on the road, so that RFK Stadium can heal from the Foo Fighters concert this weekend. But, despite the need for rest, the D.C. United starters will come as no surprise to you. Will Ben Olsen switch anything up from the team that took on Toronto FC?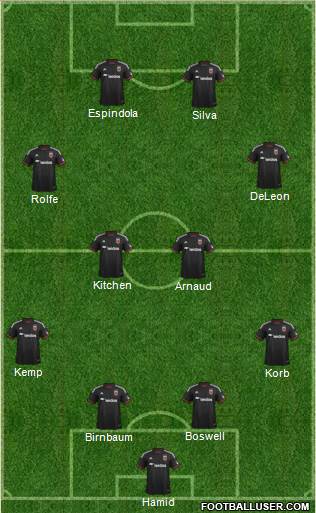 In short, no. The time for changes is after this run of games, when everyone is healthy to start the next run of games, and not locked in with one of the two current rotations that Ben Olsen has. I think that Markus Halsti has made a solid case towards supplanting Davy Arnaud after this game, and Arnaud has been playing fine himself this year. Facundo Coria is another player who might get some more time, but he runs headlong into a number of other players looking for time in that same space.
The month of July will also bring the possibility of new signings, with the league's window set to open on July 8. A left back is probably again on Ben Olsen's shopping list, but bringing in players at other positions would likely require shipping someone else out. Olsen will have time to tweak his lineup throughout the course of July, and especially over the next two weeks, to prepare what he wants for the stretch run.
With this lineup, the subs would be Andrew Dykstra, Kofi Opare, Chris Pontius, Jairo Arrieta, Facundo Coria, Markus Halsti, and Conor Doyle. What do you want Ben Olsen to do tomorrow after dark?