D.C. United's starters are rested, some players are closer to being recovered from various injuries, and they travel to Dallas this Saturday to take on FC Dallas. Throughout the run of games in May and June, Ben Olsen has not had a chance to shuffle his lineup, if that is what he wanted to do; he was forced to basically have two separate squads, one for MLS play and one for the US Open Cup and spot MLS duty. But will Olsen pull the trigger and make any changes?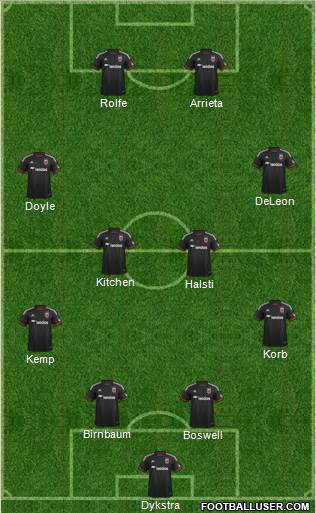 I think that the main change that Olsen will make is swapping out Davy Arnaud and putting in Markus Halsti. Arnaud was great last year and has been good this year, but Halsti's passing could help prevent D.C. United attacks from bogging down due to slow thinking. I still think Davy Arnaud will be a key substitute for this team, but it is time to begin the process of change.
The other place where Olsen will have to make a decision is at striker, and that will have implications across the rest of the field. With Fabian Espindola suspended and Chris Pontius and Luis Silva still recovering from injury, I think the most likely pairing is Jairo Arrieta and Chris Rolfe. That means that either Conor Doyle or Miguel Aguilar will start at left midfield, and my bet is that it will be Doyle.
With this lineup, the subs would be Travis Worra, Kofi Opare, Luke Mishu, Miguel Aguilar, Chris Pontius, Davy Arnaud, and Facundo Coria. What do you want to see Ben Olsen do on Saturday?