Less than 72 hours after ending their game against the Chicago Fire, D.C. United retakes the field against Toronto FC. The Reds have played the second fewest games in MLS so far this season, five less than D.C. United. Unlike the first time they met, Toronto will have Michael Bradley and Jozy Altidore alongside Sebastian Giovinco. But Ben Olsen will also have most of his first-choice starters from which to chose as well.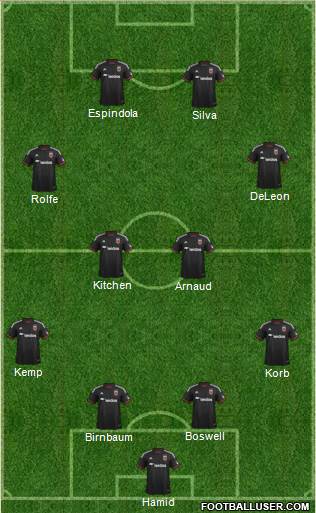 After having rested his starters during the midweek game, they all come back with a vengeance. The only change that I am making is that Conor Doyle has to get some rest at some point, so Chris Rolfe moves back into midfield and Luis Silva gets the start alongside Fabian Espindola.
I think that Markus Halsti is getting close to supplanting Davy Arnaud, but I think Olsen will likely wait until after this onslaught of games to make that change. The team has almost two full weeks in between games, and I could imagine Olsen using that time to evaluate his roster on making decisions about his best XI going down the balance of the season.
With that in mind, I think that Luke Mishu could be pushing both Chris Korb and Taylor Kemp the remainder of this season, which should hopefully lead them to the best out of all of them. And, of course, I would think that team is going to make at least one move this summer, whether it be a trade within the league or a signing from without.
With this lineup, the substitutes would be Andrew Dykstra, Kofi Opare, Luke Mishu, Conor Doyle, Markus Halsti, Facundo Coria, and Miguel Aguilar. What do you think Ben Olsen will do tomorrow?