D.C. United travels to Florida take take on Orlando City SC for what seems like the 275th time this season already. They will do so having gotten a week off for the first time in ages, and so should have most of their first choice starters available to them. Chris Pontius is still dealing with an injury, but Taylor Kemp and Chris Korb are almost back to full strength. So who will try to get the season sweep against Orlando City SC?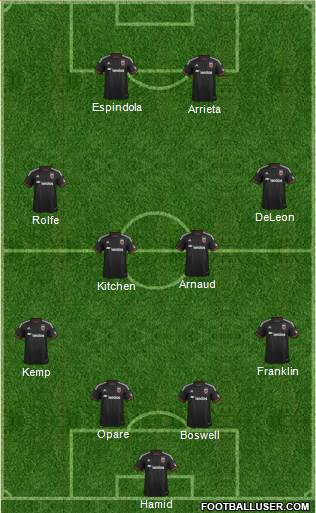 Fabian Espindola and Jairo Arrieta return as the starting strike partnership, with Luis Silva still coming back slowly from his second injury of the season. Hopefully they can find a little more inspiration than in their last game.
In the midfield, I think that Facundo Coria is going to get a start soon; when that will be, however, is still a mystery. It wouldn't surprise me to see him starting next to Espindola or on the wing, with Chris Rolfe moving to forward. It would be an interesting wrinkle on what we've seen so far this season, and would allow Rolfe to renew his partnership with Espindola, which has worked well in the past.
With Taylor Kemp and Chris Korb soon to be be back, one of them will probably relegate Steve Birnbaum back to the bench, despite his first ever goal. I still think he will reclaim his center back spot this season, so this could be that game as well.
With this lineup, the subs would be Andrew Dykstra, Steve Birnbaum, Facundo Coria, Miguel Aguilar, Conor Doyle, Luis Silva, and Chris Korb. What do you want to see Ben Olsen do on Sunday?