D.C. United welcomes a new member of the Western Conference back to RFK Stadium this Saturday as Sporting Kansas City comes to town. SKC is currently in the last playoff spot in the Western Conference, but are only 4 points out of first (though they already have a game in hand on United). Peter Vermes' teams will always follow a certain script, but who will Ben Olsen send out to try and grab three points?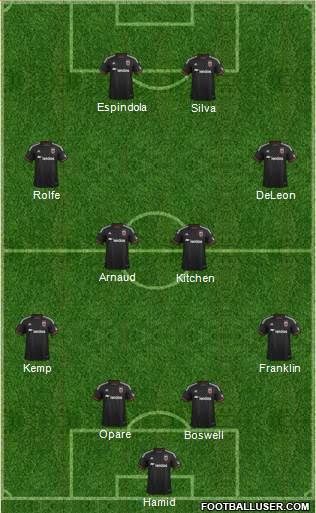 The main question, as always, is along the forward line with its implications cascading back into the midfield. Luis Silva has been getting substitute minutes for the past month or so, but has yet to notch his first start. It is also directly linked to the starting status of Chris Pontius, who is currently occupying the left midfielder spot. The math is fairly simple: if Ben Olsen wants to start Luis Silva alongside Fabian Espindola, then Chris Rolfe slides back to left midfield and Chris Pontius to the bench.
Luis Silva is going to need to get starting sharpness down the line for United to be at their best, so I think that he will get the start alongside Espindola and move Pontius to the bench. Olsen will have to start resting some of these midfielders throughout the month of May, with United's first mid-week regular season game coming next Wednesday. However, against a tough opponent and at the beginning of a long stretch of games, he can still afford to use his primary starters in this game.
Markus Halsti, after his long layoff, will finally crack the bench in this game; his first start could come as soon as the aforementioned game next Wednesday against Orlando City SC, with Olsen needing to get Davy Arnaud some rest throughout the season. With Jared Jeffrey already out of the 18 man roster, Miguel Aguilar would look like the next player to get bumped off and to perhaps re-join the Richmond Kickers. Joining Halsti on the bench will be Andrew Dykstra, Chris Korb, Luis Silva/Chris Pontius, Jairo Arrieta, and Conor Doyle, and Michael Farfan.