After resting plenty of players on Wednesday and running out an experimental lineup, Ben Olsen and D.C. United return to RFK Stadium to take on the Philadelphia Union tomorrow. Olsen will have the full complement of healthy players, though the injury list is still long.
The main question for this game is that of the starting wingers. Both Chris Pontius and Chris Rolfe could play in either position, and neither Nick DeLeon nor Michael Farfan are fully fit yet. With the injuries on the front line to Fabian Espindola and Luis Silva, a Pontius-Rolfe attacking partnership would be a very intriguing one (especially since few want to see Conor Doyle start right now).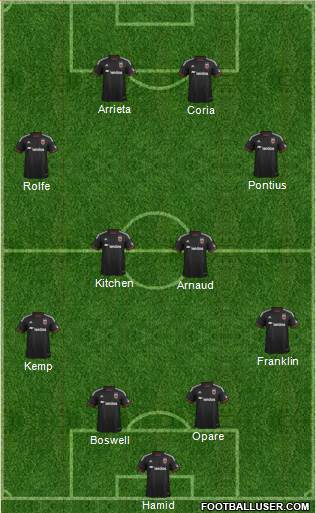 However, I think those injuries to the wingers will prevent that partnership. I think that Facundo Coria will get his first start at forward alongside Jairo Arrieta, with Pontius and Rolfe on the wings. Perry Kitchen will, of course, return to the center of midfield, alongisde Davy Arnaud.
The back line will revert to what it has been for most of the season: Bobby Boswell and Kofi Opare in the center, Taylor Kemp and Sean Franklin as the fullbacks. Bill Hamid put in another great performance on Wednesday, and will obviously be back at it on Saturday.
With this lineup, the subs would be Andrew Dykstra, Chris Korb, Steve Birnbaum, Nick DeLeon, Miguel Aguilar, Conor Doyle, and Markus Halsti. What do you want to see Ben Olsen do tomorrow?