D.C. United back their bags and fly from New England to Portand, facing off against the Timbers on Wednesday night for a little #dcuafterdark action. And all of that is before United has to fly back to the District to take on the Philadelphia Union on Saturday, for a total flying distance of over 5000 miles in about a week.
After the New England Revolution game, D.C. United sent Michael Farfan, Davy Arnaud, and Chris Rolfe back to Washington and called in Jared Jeffrey, Luke Mishu, and Collin Martin. And all of that is in addition to the continued absences of Fabian Espindola and Luis Silva. Luckily, Nick DeLeon seems to be healthy enough to make the bench this weekend, but probably not for this game. With all that said, who will actually start on Wednesday?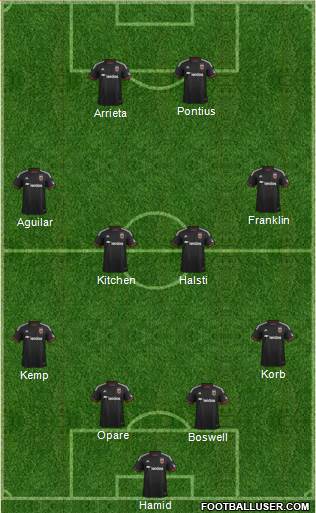 In actuality, the starting lineup doesn't look too far off from a typical United effort. Jairo Arrieta seems likely to come back into the starting lineup, and the options for his partner are rather limited. I doubt that either Collin Martin or Facundo Coria have the fitness to start, so that leaves Chris Pontius as the most appropriate forward of the bunch.
Sean Franklin will be the main change, moving up into the midfield alongside Perry Kitchen, Markus Halsti, and Miguel Aguilar. With his insertion into the midfield, Chris Korb takes the right back spot and Taylor Kemp is the left back. Steve Birnbaum remains on the bench as Kofi Opare and Bobby Boswell lock down the center of defense.
In something that Ben Olsen would never do, this could also be the perfect time to try a 4-3-3. If you replace Chris Korb with Jared Jeffrey, you have the makings of an effective team that could clog the midfield against the Portland Timbers while still having some attacking prowess on the field. Given United's roster, however, it isn't really a sustainable formation going forward, so I wouldn't expect to see it here either.
With that lineup, the substitutes would be Andrew Dykstra, Steve Birnbaum, Conor Doyle, Facundo Coria, Luke Mishu, Jared Jeffrey, and Collin Martin. What would you do with these available options?