After losing last Sunday to the Philadelphia Union, D.C. United looks to rebound this Saturday when they take on the New England Revolution. The Revolution have a midweek match against Sporting Kansas City, and so Jay Heaps will have to make some hard choices for each of these two games. On the other hand, United has to balance a cross country midweek match next week, and so roster flexibility will be key.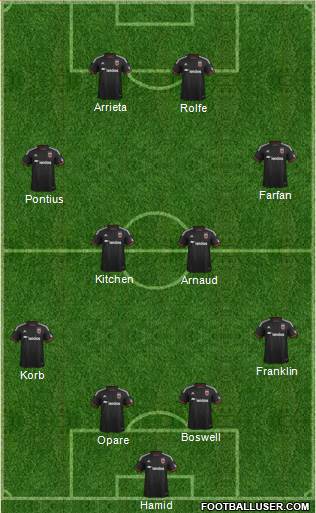 With Nick DeLeon out, Chris Pontius is almost guaranteed to start on the left wing, even if I think that Ben Olsen would prefer to start him as a forward. That means that Jairo Arrieta will be the one partnering with Chris Rolfe on the forward line, with Luis Silva and Fabian Espindola still a few games away from returning to full health.
Joining Pontius in the midfield is the fairly predictable trio of Davy Arnaud, Perry Kitchen, and Michael Farfan. Miguel Aguilar had a few good moments against the Union, but I think Olsen wants him as a threat off of the bench.
We keep saying that Steve Birnbaum will eventually return to the starting lineup, but Kofi Opare keeps doing well enough to keep him on the bench; therefore, he gets to keep joining Bobby Boswell in the center of defense. Sean Franklin was also missed in the Union game, and so his return will be key. The fight between Chris Korb and Taylor Kemp has reached a high level, and I think Korb has the slight edge right now.
With this lineup, the substitutes would be Andrew Dykstra, Steve Birnbaum, Taylor Kemp, Miguel Aguilar, Markus Halsti, Conor Doyle, and Jared Jeffrey. What would you like to see Ben Olsen do against the Revolution?