It has been much talked about, but D.C. United must start to rotate their squad to keep players fresh for the duration of the season. United, however, are lucky that just as they need to do so, all of their players are coming back to full health and so Ben Olsen should have almost his full compliment of options versus Orlando City SC this Wednesday.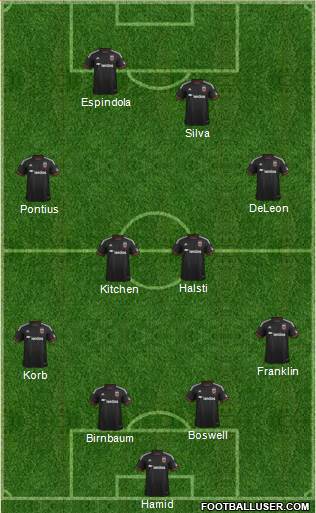 Should Fabian Espindola be sufficiently recovered from his injury, he would slot right back into the front line of United's attack; if not, Jairo Arrieta fulfills the same role, so he would again lead the line. Getting his first start of the year, however, will be Luis Silva, who will give Chris Rolfe a chance to rest and be ready to dominate the Philadelphia Union on the weekend.
Davy Arnaud is also a prime candidate to be rested for this midweek game, and it would fortuitously allow for Markus Halsti to get his first start in central midfield. I could also see Michael Farfan spelling either of Chris Pontius or Nick DeLeon, but Olsen may not want to introduce too many variables all at once.
Finally, on the back line, I think that Steve Birnbaum will come back in and reclaim his starting spot from Kofi Opare. Opare has performed admirably in Birnbaum's absence, but I don't think there is a question of who the starter is. Opare will be used to spell Bobby Boswell at times this season, but Wednesday is not that day.
With this lineup, the substitutes would be Andrew Dykstra, Taylor Kemp, Chris Rolfe, Davy Arnaud, Kofi Opare, Jairo Arrieta, and Conor Doyle. How do you want to see Ben Olsen balance his lineup as we enter the meat grinder that is May?