D.C. United faces a rematch for the first time this season, facing off against the New York Red Bulls at Robert F. Kennedy Memorial Stadium after losing to them in New Jersey last month. The D.C. United team that will face the Metros will be a fairly similar team, but will they be able to find a different result at home?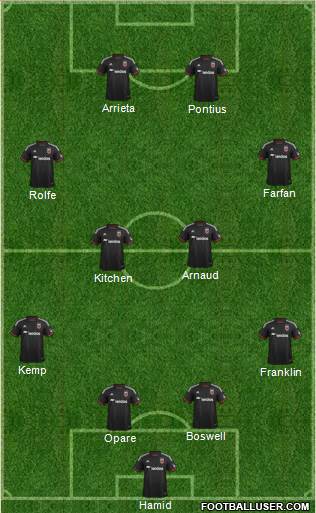 There look to be three differences in the lineup between this game and the last game: Taylor Kemp is in for Chris Korb; Michael Farfan looks to come in for Nick DeLeon; and Kofi Opare is in for Steve Birnbaum The former replacement is one that everyone suspected, but the Farfan move may be injury related, but it may also be tactical. After last week's game, Ben Olsen said that he removed Nick DeLeon for some tightness in his leg, but that he would have made the switch regardless. Farfan is a player who can push DeLeon, something he hasn't really had behind him for most of his D.C. United career, so hopefully this situation can bring out the best in both players. And, in case you missed it, we talked about Farfan versus DeLeon in the most recent episode of Filibuster.
With the long layoff, Luis Silva is still not 90 minutes fit, so look for him to get around 20 minutes in reserve duty. Conor Doyle has started to look like a more complete player, so look for him to continue to get extended minutes in the second half, especially if Ben Olsen wants to throw a different look at the Red Bulls than what Jairo Arrieta is providing or if Arrieta is ineffective. The last sub could be either Nick DeLeon or Miguel Aguilar, depending on how Olsen is feeling at that particular moment. These four players will be joined on the bench by Andrew Dykstra, Chris Korb, and Jared Jeffrey.
What do you want to see Ben Olsen do in round two against the New York Red Bulls?