Columbus Crew SC come to RFK Stadium to face off against D.C. United this Saturday, and Unite is quickly getting more and more healthy. With the return to training of Davy Arnaud and Markus Halsti, Ben Olsen will finally have to make some difficult decisions. The obvious starters in the attacking six are Fabian Espindola, Perry Kitchen, and Chris Rolfe; all of the other spots are up for grabs.
Markus Halsti will at least make the bench, and I could see him starting at either central midfield or central defense. Kofi Opare has been a solid replacement for Steve Birnbaum, and if Birnbaum is close to returning himself then it may not make much sense to throw Halsti in there for a game or two. In his natural defensive midfield position, he is competing against Davy Arnaud, coming back from his own injury, and Michael Fafan, who played well against the Vancouver Whitecaps. I'm going to lead towards Halsti, but wouldn't be surprised by any of those options.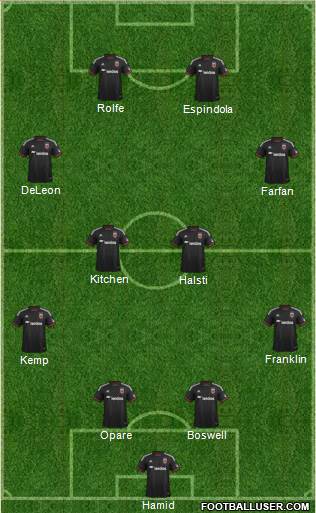 The other main midfield puzzle to solve is which of Nick DeLeon, Luis Silva, Chris Pontius, and Michael Farfan will start, and where that leaves Chris Rolfe. I think Nick DeLeon is still a starter, so that means that Pontius, Farfan, and Silva are all vying for one spot. The key is whether Ben Olsen values Rolfe more as a forward or as a winger, because Silva will not play wide. I think based on their success against Vancouver, Rolfe stays up top and Michael Farfan gets the start on the right side of midfield. It would again be a very narrow formation, but D.C. United has made that work for them.
With those starters, the bench would be Travis Worra, Chris Korb, Davy Arnaud, Luis Silva, Chris Pontius, Conor Doyle, and Miguel Aguilar. What do you want to see happen against the Columbus Crew this weekend?