D.C. United travels across the country for a late-night game against the Vancouver Whitecaps. Once there, they will face the early-season Supporters' Shield leaders, all in a team that has given United fits over the years. But United has some players coming back into the lineup at just the right time, and so Ben Olsen has options.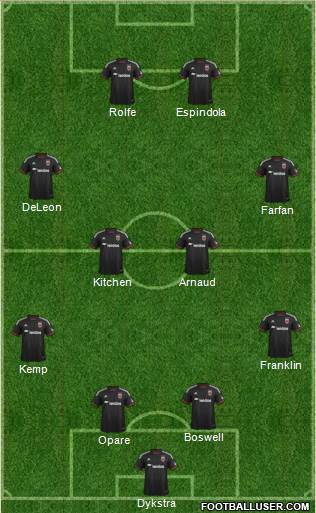 The big change for this lineup is the return of Fabian Espindola from his six-game suspension. I think that Ben Olsen will immediately start the newly-minted designated player, since he is not coming back from any injury. He still might not be 90 minutes sharp, but Olsen will want to squeeze everything he can out of Espindola and Espindola will be itching to remind everyone of his stature.
Almost as big as the return of Espindola, however, is the movement of Chris Pontius to the bench. I think that against a fast Vancouver team on turf, Ben Olsen may opt to try and hoard some possession. If so, he may start Nick DeLeon on the left side of midfield, Michael Farfan on the right side, and move Chris Rolfe up top to partner Espindola.
Olsen has been cautious with Luis Silva in his return to the field, and so I don't know if he wants to throw out an entirely new strike force, especially on Vancouver's turf. I would like for him to get the start next Saturday, when United host the Columbus Crew.
Bill Hamid still hasn't practiced this week, and making a return to the field after a whole two weeks out of practice and a cross country flight does not seem likely. Luckily, Andrew Dykstra looked far more capable in his second start this year, but it is still a large dropoff from Hamid.
With this lineup, the substitutes would be Travis Worra, Chris Pontius, Chris Korb, Luis Silva, Jared Jeffrey, Jairo Arrieta, and Conor Doyle. What do you want to see Ben Olsen do on Saturday?