After a disappointing draw against the New York Red Bulls, D.C. United will face the Houston Dynamo at home this weekend. A traditional thorn in the side of United, the Dynamo had some offseason upheaval: losing Dom Kinnear and bringing in former Premier League manager Owen Coyle is the biggest part. Luckily, the Dynamo will not yet have the services of Cubo Torres, though his time is coming soon.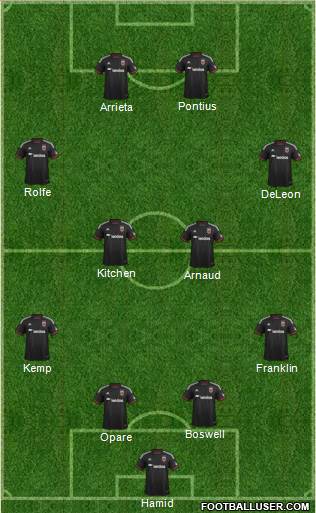 One of the main question for this game is whether or not Nick DeLeon will reclaim his starting spot on the right side of midfield. When he was removed at halftime against Orlando City, Ben Olsen said that he would have made the change anyways, whereas this week he said that they didn't want to risk DeLeon's hamstrings in the New York Red Bulls game.
DeLeon has been a lock as a starter for Olsen since he burst onto the scene in 2012, but with a plethora of options Olsen may begin to look elsewhere. DeLeon hasn't really had anyone behind him to threaten his starting position until this year, with Michael Farfan and Chris Pontius both threats when everyone gets healthy. For this game, however, I think DeLeon gets the start.
The rest of the midfield will be Chris Rolfe, Davy Arnaud, and Perry Kitchen, though Markus Halsti is easing back into training with United, having participated in passing drills this week. He won't be a threat to start for the next few weeks, but his health will give Ben Olsen another good problem with which to deal.
The other main question, of course, is whether or not Luis Silva is ready to go 60 minutes and therefore make a claim for a starting role. I think this might be a week too early, but he could definitely come in at the half if the team needs a change of pace. With Fabian Espindola's suspension over after this game, Jairo Arrieta and Chris Pontius will be facing keen competition for starting spots against Vancouver; for this game, however, they should be fairly safe.
Finally, the defense is the same as it ever ways, with Sean Franklin, Bobby Boswell, Kofi Opare, and Taylor Kemp in front of Bill Hamid. With this lineup, the substitutes would be Andrew Dykstra, Chris Korb, Michael Farfan, Jared Jeffrey, Conor Doyle, Miguel Aguilar, and Luis Silva.
What do you want to see from Ben Olsen in this game?