D.C. United makes its first ever trip to Florida to play Orlando City SC in a game that matters this Friday, on a nationally televised game. United had a strong March at home, winning three games between MLS play and CCl play, but lost their two road games by a combined score of 7-2. But April is now here, and hopefully the team will make it the cruelest month for their opponents.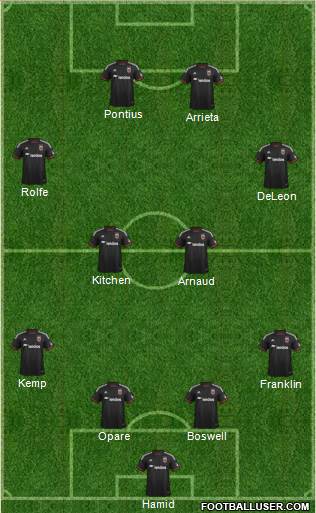 The move for which many people are calling is for Ben Olsen to switch Chris Pontius and Chris Rolfe, getting the magic headbanded one closer to goal. However, I don't think that we will see that this week. Chris Pontius is finally physically fit, but he is not yet back at his soccer prime. We all saw how he performed in 2012, often as a forward, and Ben Olsen remembers that as well;  he is going to give Pontius an extended trial there, especially while other options are still unavailable.
Next to Pontius, of course, will be Jairo Arrieta, who showed the other side of his game against the LA Galaxy, being caught offside six times. The rest of the midfield will be Perry Kitchen, Davy Arnaud, and Nick DeLeon, all in front of a back line of Taylor Kemp, Kofi Opare, Bobby Boswell, and Sean Franklin. While some players are close to getting match fit, they are still not ready enough to make any real changes to the starting lineup so far this season.
Despite not making the bench last week, this will be the week that Luis Silva gets back in the 18. He will be joined there by Andrew Dykstra, Chris Korb, Jared Jeffrey, Conor Doyle, Miguel Aguilar, and Michael Farfan. I would love to see Silva get some time, as well as Aguilar, but Farfan is probably the one most likely to see the field regardless of situation.
What do you want to see against the Lions?