With the CBA negotiations out of the way, D.C. United is now free to welcome the Montreal Impact to RFK Stadium to kick off the MLS regular season. Both teams played in the Concacaf Champions League earlier this week, but United will have a bye after this week to prepare for the rest of the MLS year. Fabian Espindola also begins his six game suspension, so who will take his place in the starting 11?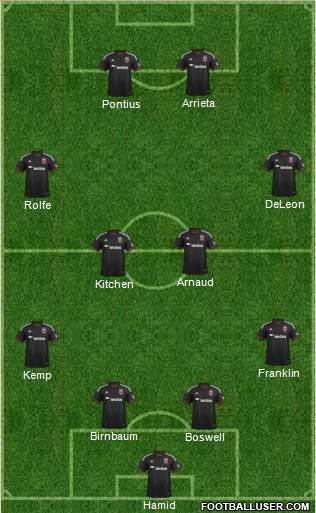 Jairo Arrieta is the obvious choice to replace Espindola, having forced his way onto the field with his play in the CCL. That only leaves the question of his partner, and that comes down to either Chris Pontius or Chris Rolfe. I am going to guess that Pontius will move back to the forward line for his physicality, with Rolfe stepping in a left wing, but I could easily see that flip. The rest of the midfield stays the same, with Nick DeLeon on the other wing and Davy Arnaud and Perry Kitchen in the middle.
The back line will hopefully see Taylor Kemp healthy enough to return to the starting lineup; if not, versatile backup Chris Korb will take his place on the left side. Steve Birnbaum and Bobby Boswell will man the middle of the back line, with Sean Franklin out to the right. Bill Hamid, of course, will be in goal. With this lineup, the subs would be Andrew Dykstra, Kofi Opare, Chris Korb, Miguel Aguilar, Michael Farfan, Conor Doyle, and Jared Jeffrey.
What do you want to see Ben Olsen do tomorrow afternoon?