With injuries and suspensions yet to be resolved, there is not much drama in D.C. United's current starting lineup. But just think of the options that will be presented to Ben Olsen when he has Luis Silva, Fabian Espindola, and Markus Halsti all available. For this game against the New York Red Bulls, the team will be basically as deep as it was last year; in coming weeks the competition will become even more fierce.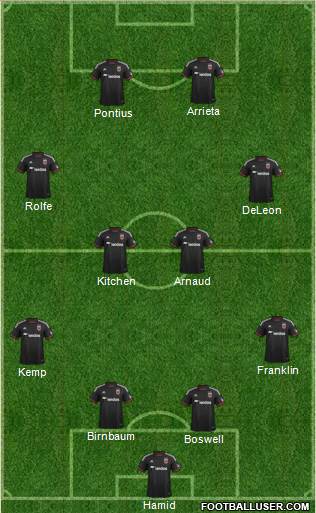 The news from Steve Goff is that Taylor Kemp will travel with the time, while Markus Halsti and Luis Silva will not. Kemp may not start over Chris Korb if he is not 90 minutes fit, but if he is he will slot back in opposite of Sean Franklin. Bobby Boswell and Steve Birnbaum will obviously be in the middle of the field, and will hope to replicate their two most recent games of solid form. Bill Hamid will continue to perform the role of human brick wall.
Ben Olsen has shown that he prefers Chris Rolfe on the left wing and Chris Pontius as the second forward, at least when Jairo Arrieta is the other starter up top. Pontius is stronger and better in the air than Rolfe, and so he provides balance to Arrieta in a similar way to how Fabian Espindola and Luis Silva provided balance to each other last season. Davy Arnaud, Perry Kitchen, and Nick DeLeon will round out the midfield.
With this lineup, the subs would be Andrew Dykstra, Miguel Aguilar, Kofi Opare, Chris Korb, Michael Farfan, Conor Doyle, and Jared Jeffrey. Unless situation forces Olsen's hand, the subs basically write themselves: Aguilar, Farfan, and Doyle seem to fit the team's current style. What do you want to see from United in this game?