After the USMNT disappointed these past few days, we turn our eyes back to D.C. United. They are back in action this Sunday against the Chicago Fire for their last regular season home game this season. With D.C. United's playoff spot secured, their minds turn towards staying out of the first round game and with building on their win against NYCFC to get some momentum heading into the next part of the season.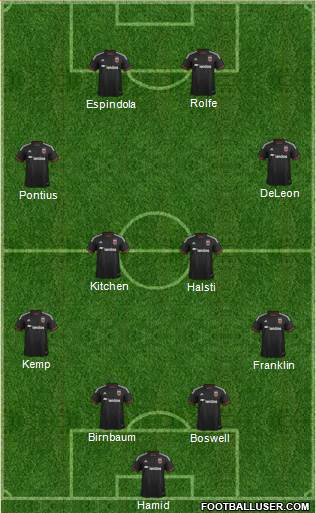 The first choice that Ben Olsen will need to make is for Fabian Espindola's partner: Alvaro Saborio scored a goal last week, but Chris Pontius also had his best game of the season. Having an option like Saborio available off of the bench is powerful; D.C. United were at their best last season when Eddie Johnson was available in a similar role. Also, I think that Olsen will want to keep Chris Pontius going if at all possible as the playoffs approach, and so another start for him is in the books.
The other debate is between Kofi Opare and Steve Birnbaum for the starting center back spot next to Bobby Boswell, and it is a pretty even battle. I lean ever so slightly towards thinking that Olsen will pick Birnbaum, but he could just ride the Opare-Boswell pairing right into the playoffs; with only two games left, there isn't a lot of time for people to round back into form.
With this lineup, Andrew Dykstra, Kofi Opare, Michael Farfan, Alvaro Saborio, Jairo Arrieta, Conor Doyle, and Miguel Aguilar will be on the bench. What do want to see Ben Olsen do in the penultimate game of the 2015 regular season?