Long-time readers of the site know that, throughout the season, we try to predict what lineup Ben Olsen will use for that week's game. In that spirit, and to mark the beginning of training camp, here is the team that I think will start the Concacaf Champions League game against L.D. Alajuelense. We will go through this process throughout the preseason, as we actually get to see Olsen mixing and matching players, what his preferences are, when players are signed or traded, and how these players start to perform.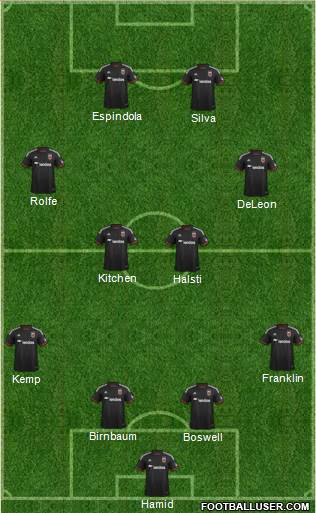 Obviously, the most controversial spot is benching Davy Arnaud in favor of Markus Halsti. It will be a tough road for Halsti to try and beat out Arnaud is just over a month's time, but I think that his pedigree as a UEFA Champions League starting central midfielder will help him win out. If he cannot do it by the end of February, I would hope that he would be starting by the beginning of April. Arnaud has experience throughout the midfield and as a second striker, and that versatility off of the bench could make him the new Standard.
Otherwise, the team should look very familiar as it is the same as the one that was successful down the stretch of 2014. Bill Hamid will start in goal, with the defense of Sean Franklin, Bobby Boswell, Steve Birnbaum, and Taylor Kemp in front of him. Alongside Halsti will be Perry Kitchen, with Chris Rolfe and Nick DeLeon on the wings. Fabian Espindola will likely play every minute of CCL play since he is suspended for MLS play, and alongside him will be Luis Silva.
United has not been too active in acquiring players, but they have significantly improved their depth going into this year. With these starters, the substitutes would be Andrew Dykstra, Chris Korb, Kofi Opare, Davy Arnaud, Chris Pontius, Eddie Johnson, and Jairo Arrieta. Who is your starting XI for D.C. United?